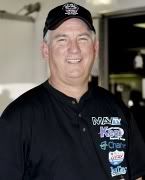 Brogdon says revamped program way ahead of schedule
(9-8-2012)
INDIANAPOLIS, IN – After qualifying 15th last week for the 58th annual Mac Tools U.S. Nationals presented by Auto-Plus, Rodger Brogdon, driver of the MAVTV Chevy Camaro, was one of the last people who wanted to see the rain force the event to continue this weekend with two extra sessions of qualifying added to the mix.
But after getting about 10 or so test runs during the week, Brogdon has more than warmed to the extension of the event.
"It really paid off going to Martin, Mich., I can tell you that," Brogdon said. "We made eight or 10 runs with two sets of new carburetors. We didn't think they were the fastest ones, but we did think the tune-up was closer on these, which is why we are running them this weekend. The extra track time helped for sure. We would have still been struggling with the other tune-up."
With air conditions vastly better than last weekend, Brogdon moved up all the way to the No. 9 position after a best pass of 6.598 seconds at 209.17 mph. He goes up against No. 8 qualifier Jeg Coughlin Jr., in the first round. Coughlin qualified with a 6.594 at 209.43 mph.
"He's like anybody else out there: he puts his pants on one leg at a time," Brogdon said. "The plan is to go out there and whoop him. It should be a great day. The weather will be the same and there's not much difference in the lanes.
"We're going to try to be better on the tree and outrun him."
Brogdon switched to the Camaro chassis and to his own engine program one race ago. He said the results so far are more than promising.
"We think it's going to be a very good car, when it's all said and done," Brogdon said. "We can't wait to get out the first of next year and show everyone what we've learned during the winter.
"We're way ahead of schedule for where we expected to be at this point."
Brogdon still has an outside shot of making the Top 10 in Pro Stock points and making the Countdown, the NHRA's postseason. In order to do that, Brogdon will have to win the race.
Eliminations for the 58th annual Mac Tools U.S. Nationals presented by Auto-Plus gets under way at 11 a.m. Sunday from Lucas Oil Raceway.
Please visit
www.MavTV.com
and
www.LucasOil.com
for more information.