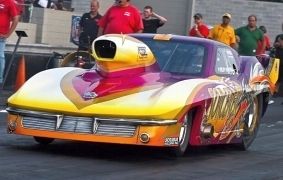 Northeast Outlaw Pro Mod Association featured at MIR's Superchargers Showdown Sept. 21-22
(9-12-2012)
MECHANICSVILLE, MD – The Snap-On Superchargers Showdown is back for the 27th year featuring the Northeast Outlaw Pro Mod Association on September 21st and 22nd.
This is one of the largest displays of 1/4 mile Pro Mod power in the country with more than 35-40 cars competing for 2 classes of 16 cars. The Snap-On Superchargers Showdown will bring together some of the fastest blowers, turbos and nitrous cars competing for big purses, prestige and contingency awards.
"For this event we intend to field two separate super-fast classes (Blower/Turbos and Nitrous) of 16 cars each making it one of the largest Pro Mod quarter mile events in the USA. Many of our cars run in the high 5.90s or low 6'0 range making it great door to door, fender to fender nail biting drag racing at its best said," John Mazzorana, president of the association.
Royce Miller comments, "On September 21 and 22 the NEOPMA racers will be lighting up their fire breathing fuel/alcohol/nitrous engines generating an astounding 3000 plus horse power. Famous racers like Tim O'Hare (5.90s and #2 in points), Steve Drummond (247 MPH & #1 in points), Larry Plummer, Gerry Capano, Jim Bersani, Eric Latino (from Canada), Larry Higginbotham, Bruce Mullins Gary Walker, Dwayne Wolfe and many more will be fighting for the purse and prestige in the Blower/Turbo class. On the Nitrous side Fred Scriba (5.90s and #1 in points), Matt Deitsch (237 MPH and #2 in points), Gary Courtier (236 MPH), Todd Fontana, George Williams, Isaias Rojas (from Puerto Rico), Dean Marinas/Harry Pappas, Jeff Rodgers, Montana/Harrell, Kramer/Woods and many more plan to knock Scriba off his pedestal."
"The rivalry is so thick you could cut it with a knife. Steve Drummond and Tim O'Hare can't wait to get at each other. Steve quietly said that with his turbo power he will easily drive around Tim."
"Tim retorts that his superior reaction time and ET will dominate."
"Matt Deitsch goes to sleep at night dreaming of beating Fred Scriba but Fred is consistently fast."
"The Traction is the best in the country. The officials, parking, hospitality, facilities are all superior. Add to that great Pay outs: Each Class gets ... Winner $6,000.00 PLUS $2,000.00 value in Contingency Awards, Runner Up $1,500.00 plus $ 500.00 in Contingency Awards value, Semi $800.00 each, 2nd round loser $500.00, 1st round loser $300.00 equals $29,000.00 in Pro Mod purse. What more could you ask for?"
Check Maryland International Raceway web site for schedule and details.
NorthEast Outlaw Pro Mod sponsors; American Racing Headers, Star Transporters (Renegade), Goodyear Racing Tires, Moroso Racing Products, Jesel Valve Trains, Ram Clutches, VP Racing Fuels, Barker Racing, Tim O'Hare Custom Homes, Scriba Welding, Split Rock Racing, Gary Courtier Custom
Visit MIR Dragways Schedule and Event Page For Times And Admissions:
http://www.mirdrag.com/v2/schedule/c...9/12-09-22.htm