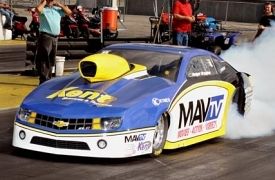 Brogdon building for future while competing in the here and now
(9-20-2012)
TOMBALL, TX – These days Rodger Brogdon has been wearing a hard hat about as much as the helmet he wears while driving the MAVTV Chevy Camaro in the NHRA's Pro Stock division.
Brogdon and business partner Steve Kent are in the process of moving their racing operation from Oklahoma to the Houston area. A home builder by trade, Brogdon said he's been personally supervising a lot of preparations in the new shop to make the transition as seamless as possible.
"We've been spending a lot of time getting this new shop ready," Brogdon said. "In November we want to start moving everything down here. The goal is to be able to disconnect everything up there, move it all down and have it back up and running only losing about five or six working days."
The preparations for the move have given the team little time to experiment with a lot of new parts and setups on their new hot rod since leaving Indy two weeks ago.
"We've got a few things in the works, but we're not going to roll them out quite yet," Brogdon said. "We're going to use our same basic setup we used in Indy this weekend. We're not going to unveil any new stuff until we get to Las Vegas."
That Indy setup was good enough for a No. 9 qualifier spot and a first-round win over five-time world champion Jeg Coughlin Jr.
"With no more time than we've had to work on this whole new program, if we could qualify in the top half, it would be a major accomplishment," Brogdon said. "We know that next year, in order to be a contending team, qualifying in the top four needs to become a regular occurrence. Something like 75 percent of the races are won from those four spots.
"We know what kind of team we've got to become. That's what we're working toward now."
Qualifying for the AAA Texas NHRA Fall Nationals get under way at 2 p.m. CDT Friday from Texas Motorplex. Qualifying continues Saturday starting at 11 a.m. with eliminations at 11 a.m. Sunday morning. ESPN2 will air the qualifying show starting a 1 p.m. EDT on Saturday with the eliminations show airing at 8:30 p.m. on Sunday.