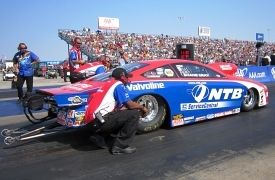 NTB Service Central driver Shane Gray misses the field in Dallas but sees the silver lining
(9-22-2012)
ENNIS, TX – Service Central Racing Pro Stock driver Shane Gray is leaving Texas Motorplex earlier than planned, but what was gained over the course of the abbreviated weekend at the AAA Texas NHRA Fall Nationals cannot be measured in rounds or win lights.
Gray heads back home to Denver, N.C., with a brain full of ideas and hope for the future, intensified faith in his Gray Motorsports crew, and a renewed sense of comfort behind the wheel of his NTB/Service Central Pontiac GXP.
Just last week, the second-generation drag racer crashed spectacularly in the second round of eliminations at the O'Reilly Auto Parts NHRA Nationals in Charlotte, totaling his Chevy Camaro that had been in competition for just half a season.
A remarkably uninjured Gray, along with his team – including crew chief Justin Elkes, car chief Craig Hankinson, crew members Jason Laimonis and Jep Trammell, as well as everyone at the Gray Motorsports engine shop, all rallied to prepare the Pontiac GXP that had been garaged since the debut of the Camaro in Bristol earlier this season.
"To be honest, we wanted to come out here and win this race," said Gray. "But let me tell you, this Service Central Racing team pulled together and just worked their hearts out. We're here because we've got a great team, and man, the future looks bright."
Gray's first pass of the weekend was his best: a 6.686 at 207.72 mph. The bump spot was a quick 6.61, leaving Gray just on the outside.
"We were at a disadvantage in terms of parts and pieces this weekend because some of what we had on the GXP originally that worked so well, we took off and had on the Camaro – and those pieces aren't able to be used anymore. But we're going to go to Rockingham, N.C., on Wednesday to test, and the guys are going to go straight from there to St. Louis," said Gray, referring to the next event on the Full Throttle Series tour, the AAA Insurance NHRA Midwest Nationals that are slated to take place beginning in just six days - Sept. 28-30, 2012.
"Really, we're just grateful to be able to do this at all," said Gray. "We'll keep at it, and I know the reward will come."