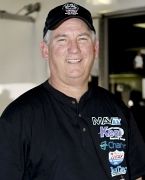 Continued progress pleases Texan Brogdon
(9-22-2012)
ENNIS, TX – Rodger Brogdon and his new-look MAVTV Chevy Camaro made baby steps forward during qualifying at the AAA Texas NHRA Nationals at Texas Motorplex.
"We did good, we just picked it up enough to make our best run during the worst session of the weekend," Brogdon said. "I feel like we would have run a 6.58 or 6.59 on Saturday morning, but if ... if ... if, that's how racing goes."
As it stands, Brogdon qualified No. 14 with a best lap of 6.616 at 208.78 mph on a team that switched to a new chassis and engine program less than a month ago. He goes up against No. 3 qualifier Jason Line, who made it in with a lap of 6.559 seconds at 210.64 mph.
"We've got the champ in the morning," said Brogdon, who hails from Tomball, Texas. "We're going to give him all he wants to hope for."
Brogdon said that while the team is still trying to figure out its new engine program, his Camaro has quickly whipped into shape.
"We're so pleased with it," Brogdon said. "This is probably going to be the best car we've ever got from Jerry Haas Race Cars. They've all been good, but this seems to be a special car.
"We made a flawless run that last pass. If you look at the graph, there wasn't a hundredth of a second left in that run - we got all of it. We were fifth or sixth that last session and we don't have that kind of power yet."
It all ties in to Brogdon's goals of turning the entire Steve Kent Racing operation into a title contender in 2013.
"It's going to be good and next year when we pick up about 30 average horsepower with the engine program, we should be able to run at the top with it," Brogdon said. "I'm really excited to see what next February brings."
Eliminations at the AAA Texas NHRA Fall Nationals get under way at 11 a.m. EDT from Texas Motorplex.