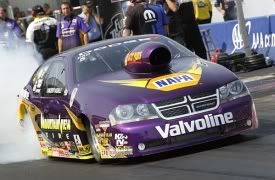 Steady Nobile holding his own in NHRA playoffs
(9-24-2012)
ENNIS, TX – Heading into the Countdown to the Championship, NHRA's six-race battle for the 2012 Full Throttle Pro Stock championship, NAPA/Mountain View Racing Pro Stock driver Vincent Nobile set a goal for himself to accept noting less than a semifinal finish at each event. Nobile is well on his way to accomplishing that goal as he drove his Nick Mitsos-owned Dodge Avenger to his second-straight final four appearance at this weekend's AAA Texas NHRA Fall Nationals in Dallas. In the process, Nobile solidified his hold on third place in the Full Throttle points standings.
"We had another great weekend," said Nobile. "Yes, it could have been better, but the Pro Stock class is so tough that anytime you reach the semifinals, you should be proud. We said going into [the playoffs] that we wanted to make it at least that far at each race and we've done that. Obviously, I'd like to step it up a bit and get some wins or at least make it to a final round but right now, we're still in a position to fight for the championship and that's exactly where we want to be."
Coming off his first low qualifier award at last weekend' Charlotte event, Nobile was also strong in Dallas as he drove the Hemi-powered Mountain View Dodge to a best of 6.564-seconds, which was good for the No. 4 spot. On race day, Nobile raced to wins against Larry Morgan and four-time world champion Greg Anderson. He was ultimately stopped after a close 6.59 to 6.61 race against Mopar teammate Allen Johnson.
"Allen has been extremely strong this season and we just didn't have enough for him today," said Nobile. "I did my best. I had a great reaction time and we made a good run but it just wasn't enough. When you lose a close race like that you've got nothing to be ashamed of. Allen is the points leader so obviously we could have helped ourselves a lot by beating him but that's easier said than done. He's got a great car right now."
With four events remaining in the 2012 season, Nobile is the third-ranked NHRA Pro Stock driver. He is currently 122 points behind top-ranked Johnson but trails second-ranked Jason Line by just 29 points. The NAPA/Mountain View team will now head north to St. Louis for this weekend's AAA Insurance NHRA Midwest Nationals at Gateway Motorsports Park.