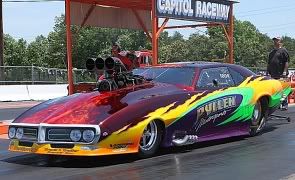 Topp Dogg Fever – You asked for it!
(9-26-2012)
CROFTON, MD – Fans, you asked for it and Capitol Raceway is bringing it to you! Join us this Saturday, September 29th for Topp Dogg Fever where you can watch Pro Mods, Top Dragsters, Top Sportsmen and flat-out Grudge Racing. It's your chance to meet the teams and pick your favorite. Then find out who's got the bite and who's all bark as they take it all down for bragging rights.
The Warrior Race Team Outlaw Pro Street 10.5 will also be battling it out at the Hill. Don't miss the all day action. Gates open at 11am. Kids 12 and under are always free.
Don't forget about Friday night test-n-tune and Get it Off the Street Grudge Racing. Capitol Raceway is committed to ending Maryland street racing and invites everyone to bring their grudge to the Hill to show who has the best car on a safe and proven track. The recently-renovated track surface can take all you can throw at it. But don't take our word for it. Come see for yourself!
Find out more details at
www.capitolraceway.net
and be sure to "like" Capitol Raceway on
Facebook
.