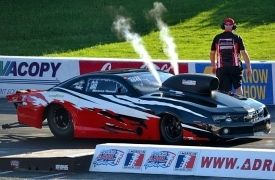 Sweeping changes make for high expectations at Keith Haney Racing
(9-27-2012)
NORWALK, OH – Big changes at Keith Haney Racing have brought big smiles to the faces of team drivers Keith Haney and Monroe Guest heading into this weekend's ADRL Summit Racing Equipment Ohio Drags VI presented By Mickey Thompson at Summit Motorsports Park.
Haney has brought in two of the ADRL's best, Brandon Pesz and Doug Riesterer, to make the tuning calls on their Chevy Camaros, with which they will make the switch to the ADRL's Pro Mod class this weekend.
"It's a tougher class to race in that's for sure," Haney said. "It's where we've wanted to race all long, but we never thought we had cars that were competitive enough to make the eight-car elimination field.
"After one test session with Doug and Brandon we feel like we've got cars with a lot of upside."
Riesterer currently is second in the ADRL's Pro Nitrous class with two wins under his belt this season. Pesz is a top 10 contender in the Pro Extreme class.
"With our new crew chief and chassis chief, we feel like we've got cars that can not only qualify, but also win," Guest said. "We're so excited to have these guys on board to guide us through the next phase of Pro Mod racing."
Haney said he's admired Pesz and Riesterer's performance at races this season, so when it came time to give Keith Haney Racing a shot in the arm, his list of people to turn to was a short one.
"Brandon is one of the best out there and Doug has the fastest Pro Nitrous car in the country," Haney said. "Stroupe Race Cars has given us some great machines and we've got new backing from Lucas Oil to help our engines. We feel like we've made more progress in four races than most teams have made all year.
"That being said, we know we have to bring it this weekend. The cars in the Pro Mod class run within about a hundredth of a second of each other and we'll be trying to fill a quarter of the field with our cars."
Guest said he wasn't able to make the test session, but the results that were being texted back made him more excited to get behind the wheel of his revamped Camaro.
"Every time they made a pass, Keith would feed me the numbers," Guest said. "I kept looking at my phone; it was exciting. Doug and Brandon did a lot of work to the cars before they even started testing. We've changed the chassis setup, rear end setup and just about everything else.
"The results we've got are extremely encouraging and gives me a new vigor to end the season strong."
The ADRL Summit Racing Equipment Ohio Drags VI Presented By Mickey Thompson will run on Friday and Saturday. Gates at Summit Motorsports Park open at 10 a.m. each day.