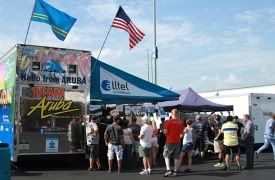 Alltel Wireless and Team Aruba make impression within the ADRL
(10-11-2012)
UNION, SC – Walk through the Extreme Pro Stock pits at an ADRL event and there's one particular pit area that will undoubtedly catch your eye. While fans often search out the last event winner or the current reigning Champion, the pits of the underdog team from Aruba are arguably the hardest to miss in all the ADRL and a sure stop for fans. With palm trees reminiscent of their homeland, a beautiful and brightly colored design on both the trailer and their Aruba.com Mustang, and a sea of friendly faces, it's easy to see why fans are drawn to Team Aruba. That sea of friendly faces is also usually made up of the folks from Alltel Wireless. The Alltel team joins Team Aruba at certain events on the tour and amplifies the inviting atmosphere with giveaways, welcoming personnel and, of course, the latest and greatest deals in cellular service.
ADRL President, Tim McAmis, has also taken notice of their efforts,
"Team Aruba and Alltel always create an inviting environment at the race track. They do a terrific job of engaging the fans and inviting people into their space. They are creative in marketing their country and their sponsors in a very positive and friendly manner. The pit area and surroundings are bold and colorful with constant activity and excitement. Fans want to be a part of that. It is always great to have them at ADRL events."
"We always strive to represent our country and sponsors well," added Team Aruba driver, Trevor Eman. "It's wonderful to have Alltel on board with us because they work just as hard to create a positive atmosphere around our pit area. We really enjoy having them at the track with us whenever they can make it. Sponsor involvement seems to be on a decline, so Alltel's presence is encouraging and sets the bar for other sponsors. Having true partnerships where sponsors are actively involved in our events makes all the difference. We want to thank Alltel for taking an active role and utilizing the opportunities available to them at the ADRL events."
Alltel Wireless has been on board with Team Aruba for several years now and is an influential facet of their ADRL presence.
For more information visit
www.alltelwireless.com
.