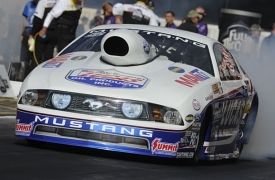 No break for hard-working Morgan and his Lucas Oil Ford team
(10-23-2012)
NEWARK, OH – After completing a grueling six-race stretch with no breaks, most racers took a few days off to catch their breath. Pro Stock's Larry Morgan, driver of the Lucas Oil Ford Mustang, isn't like most racers.
Morgan left the road two weeks ago and drove straight to the shop.
"Me and guys have done nothing but work on engines for two weeks," Morgan said. "I can't wait to get back to the track because after two weeks of working like a madman, I need the break. That's how hard we get after it; the races are the time when we can relax a little."
Morgan refreshed all his engines and made some minor repairs to his car. He also filled up his transporter with new parts and sent it back on the road to head for this weekend's Big O Tires NHRA Nationals at The Strip at Las Vegas Motor Speedway.
"We spent two solid weeks on the engine," Morgan said. "We're going to try some different things and we'll see how it all pans out in the end. I'm happy with the data we've gathered so far."
The Vegas fall race is the site of Morgan's last win, a 2009 victory over Rickie Jones in the final.
"Every one of the Bruton Smith facilities are good," Morgan said. "I've just always liked them. The track is always good there, and if anything we always underestimate it. You get some guys who say it can be tricky, but I've never had much of an issue with it. I think it's one of the better ones we race on."
With two races left in the season, Morgan still has a shot to climb out of 10th place in the Pro Stock standings. He is only four points behind Ron Krisher for ninth and 30 points in back of eighth-place Jeg Coughlin Jr.
"I'm hoping this work we've done during this break gets us back to where we a month or two ago," Morgan said. "It'd be nice get back to qualifying in the top half of the field and winning a round or two on Sunday before the season is out."
Qualifying for the Big O Tires NHRA Nationals gets under way at noon PDT from The Strip at Las Vegas Motor Speedway. The racing picks back up at 11 a.m. Saturday with two more rounds of qualifying. Sunday's eliminations get under way at 11 a.m. ESPN2 will broadcast the qualifying show at 1:30 a.m. EDT on Sunday with the eliminations show being broadcast starting at 4 p.m. Sunday.