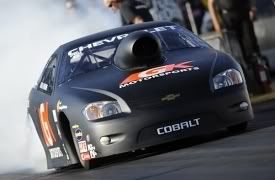 Enders fighting on two fronts heading into eliminations in Vegas
(10-27-2012)
LAS VEGAS, NV – KLR Group driver Erica Enders is battling more than the other Pro Stock drivers at The Strip at Las Vegas Motor Speedway during the Big O Tires NHRA Nationals this weekend.
She's also fighting a bad head and chest cold that has left her sapped of energy and with a raspy voice.
But Enders and her GK Motorsports team will continue to fight, as she's qualified No. 4 for Sunday's eliminations.
"I don't have a choice," Enders said. "We don't get sick days. You put your helmet on, clear your head and man up. It's definitely hard when you're in a fog, but I've tried really hard to focus. I tried to crack the Tree a few times during qualifying, just to make sure I'm capable.
"I've been sick plenty of times before and had to race on Sunday and tend to do pretty well. Hopefully, that trend continues."
Enders' top lap was 6.616 seconds at 208.71 mph, and she'll face No. 13 qualifier Kurt Johnson in the first round of eliminations Sunday. Plus, she has title contenders Vincent Nobile and Jason Line on her side of the ladder, meaning she could make up ground in the championship hunt.
Enders came to Vegas third in the points, 125 behind leader Allen Johnson but only 43 behind Line.
"It's an important day," Enders said. "We finally put together a pretty decent run on that last one. I'm optimistic about tomorrow. It's a day how we wanted because we're going to be able to control our own destiny, provided we get around Kurt, having to race Vincent second round and Jason in the semis. If it's gonna be, it's up to me. We'll take it one round at a time and see how the cards fall."
Enders, who is tied for second with four victories in 2012, may be flying under the radar in Vegas. As Line and teammate Greg Anderson maneuver to try to match up against Johnson, Enders has been quietly fast. And that's fine with her.
"They can go ahead and forget about that little girl," Enders said. "Just watch your back, boys."