2012 IHRA Top Sportsman Champion – Michael Thompson
(10-30-2012)
NORWALK, OH – Mike Thompson knows a thing or two about winning.
At 64 years of age, Thompson has won some big races and managed to do some incredible things in a career that spans over 30 years behind the wheel. But at 64 years of age, Thompson also knows that his opportunities to keep winning are slowly dwindling.
And that is why his win at the IHRA Summit Racing Equipment Tournament of Champions in Memphis means more than usual as Thompson collected the biggest prize in the sport all while sharing in the moment with all his friends and peers on a cool evening in October.
But while Thompson may be the elder statesmen in the Top Sportsman field, a category usually reserved for youth as drivers try to wrangle these high-horsepower beasts down the quarter-mile, the Naples, Florida native showed in Tennessee why experience often times trumps flash.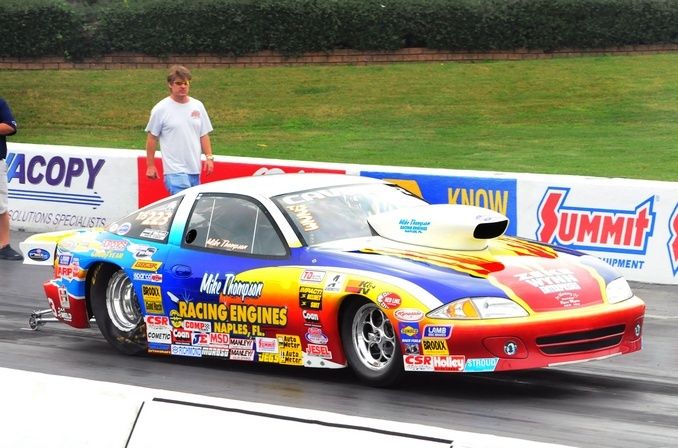 Thompson defeated two division champions and some of the heaviest hitters in the sport on his way to picking up his first career IHRA championship at Memphis International Raceway, meeting up with the man everyone pegged as the favorite in the class in the Top Sportsman final.
Pittsboro, North Carolina's Donny Urban was the hottest driver entering this season's championship tournament, winning five times and taking the Division 2 title by seven points over, whom else, Mike Thompson. But in Memphis Thompson got his revenge by taking down the Top Sportsman newbie in a close race to close out the year.
In a battle of Chevys Thompson got off the line first in his 2003 Cavalier with a .011 light, while Urban and his '06 Cobalt weren't far behind with a .028. Urban got down the track quicker with a 7.156/190.06, but the number was -.004 under his dial. In the other lane Thompson rocketed through the beams with a 7.438/180.26 on a 7.42 dial to take the win.
"We have been racing for over 30 years and this win was as exciting as any of them," Thompson said. "We didn't have any problems with the car and had a pretty good day of racing. In the final I put everything out of my head and that experience is what helped me win. I have been doing this so long I am pretty relaxed at it as I treated this like just another run."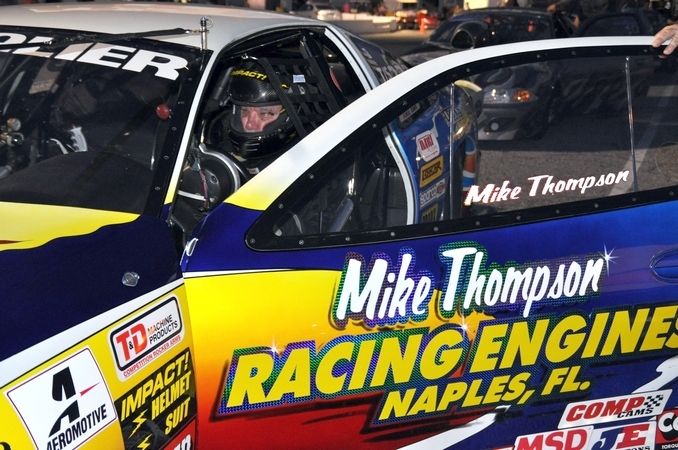 But of course this was anything but an ordinary run as Thompson collected his first career championship all while beating his division rival and one of the hottest drivers of the year to boot.
"We had a good year battling Donny and had a few wins. We won the TOC at Immokalee and then we won one in Darlington and finished second and that is how we got here," Thompson said. "It wasn't the best season I have ever had, but we got it done here this weekend."
Those two wins were enough to keep Thompson in the hunt for the Division 2 title all year, but Urban pulled away late to collect the division title by seven points.
With his ticket punched for Memphis, Thompson entered the TOC with quite a bit of momentum thanks to a victory at the final D2 Pro-Am of the season. But at the track things quickly took a turn for the worse as Thompson fell out of the Summit Sportsman Spectacular shootout on Friday in the first round.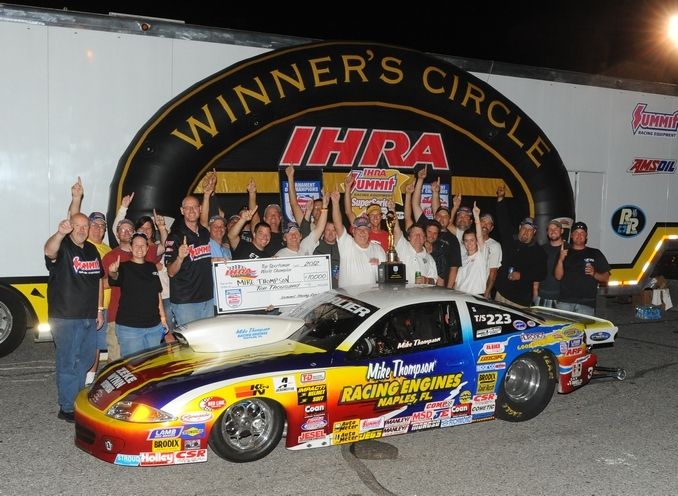 Unfazed, Thompson went back to work on Saturday and began his march to the finals with wins over Don Rudd from Division 1 and two Division 4 stars in Russell Marr and Kamron Wright. In round one Rudd went red by -.015, while in round two a solid .006 light by Thompson helped him get around Marr. In round three Thompson faced one of his toughest tests of the afternoon against the Division 4 champion, but Wright fell asleep at the tree with a .096 light to Thompson's .064 being the difference at the other end.
In the semifinal Thompson received a bye into the final while Urban battled of all people the man that finished third in his division Rick McDonough and used a huge holeshot to collect the win. Urban also had wins over Calvin Butler and Clayton Roberts to reach the final.
While the weekend did not start out as planned, Thompson was able to use his 30 years of experience and put the past behind him on his way to a championship. And while Thompson doesn't know how many years he has left in the sport, he at least knows that he still has it in him to take on the best of the best and come out on top.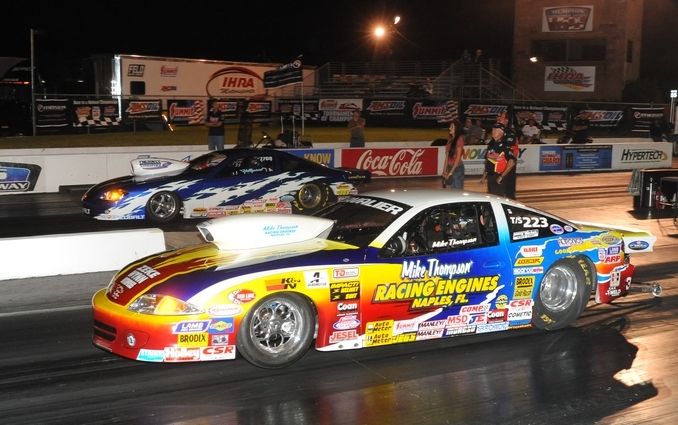 "I really want to thank Mark and Brad Wynn who own this car. Mark and I have been racing this car for seven years and it is nice to get a win for them," Thompson said. "I would also like to thank John Kyle at APD for the carburetor, Jeff Brotherton for the heads, intake and block and Brent Fisher at Goodyear."
"I am 64 and the reality is I might not have a chance to do this again," Thompson said. "That is what makes this win mean so much to me. Certainly it means a lot to the boys that own this car, but for me, who knows how long I will keep doing this. That makes this win really special."