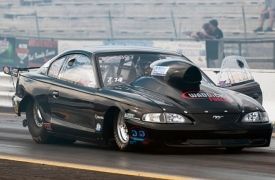 Countdown to the Championship Top Five for 2012: Top Sportsman driver Dan Aitken Jr. – Second Place
(10-30-2012)
CAYUGA, ON – Several final round appearances by Top Sportsman driver Dan Aitken Jr. gave the Belle River, Ontario driver a second-place finish in the 2012 Quick 32 Sportsman Series presented by NAPA Auto Parts Point Award Standings.
Aitken started the season well with an event win at the Cayuga Dragway of Toronto Motorsports Park. He qualified sixth on the Top Sportsman side, won the final, and met up with and eliminated Top Dragster driver Mike Everitt of Stratford to be declared the event winner.
Aitken was unable to get by the first round at the next event, at Martin, Michigan, and went to the second round during the Nitro Nationals at Cayuga, the third race of the 2012 season.
After qualifying 10th at the next race, he went to the Top Sportsman final, losing to Dan Flanigan of Buffalo, New York, but got back in the winners' circle next race with a Top Sportsman win in the South Coast Community Weekend race.
For the season finale, held at Grand Bend over the Labor Day weekend, Aitken, who started drag racing in 2008, was eliminated in the second round. He finished with 1064 points, 30 behind champions Michael Hinbest and Katie Ward of Orangeville, Ontario.
Aitken, who drives for the D. Boone S.r/Jr. Racing Team, pilots a 1995 Ford Mustang from Tim McAmis Race Cars with a 619-cubic inch Ford engine from Holbrook Racing Engines. A Budd Gilbert-inspired Reid Powerglide sits behind the Ford engine which employs a Magna Fuel Racing Fuel and Edelbrock Direct Port Nitrous systems. The Mustang is capable of quarter-mile passes in the low seven seconds at close to 200 mph.
Dan Aitken Sr. is crew chief on the team, which also consists of Monique, Xandre, Mea and Louise Aitken, Michelle, Adam, Maddie and Elise Beck. Sponsorship is courtesy of Waddick Fuels, Roffelsen & Lindsay Racing, Howell Welding and Tank Mfg Inc., Dependable Truck & Tank Ltd. and Artistic Landscaping, and the team conveys special thanks to Barrie Poole and Larry O'Brien.
Photo by Brennan Shortall