Belleri and Grima look to the basics at Willowbank Raceway

(3-25-2008)
WILLOWBANK, QLD – The 'basics' are where its at for two of the competitors set to hit Willowbank Raceway next month for the Tin Top Titles, which will feature bumper Top Doorslammer and Pro Stock fields for the first time ever.
Looking to get the basics right next month in Top Doorslammer will be 25 year old Mark Belleri, who as the son of Australian drag racing identity Lucky Belleri is no stranger to the quarter-mile sport.
After making his first outing to the family's local strip to watch dad race at the tender age of eight months, the junior Belleri was crewing for his dad's team not too much later and since then, has been looking for any opportunity to get himself into the driver's seat.
These days, Steve Stanic is the regular steerer for the Belleri 1967 Chev Camaro, however that hasn't stopped Mark taking any opportunity to hop in the car for a test drive.
"I have been around drag racing for as long as I can remember, and ever since I was the right age I have been doing everything I can to get a ride in dad's car," said Narrabeen's Belleri.
"I have had a few test runs in the car on and off for the past four years, and my last competitive outing was in the Chicago Shootout at Western Sydney for the 2007 Nitro Championships, where I was runner-up and ran a personal best of 6.13s at 235mph."
With May's Nitro Champs the last time the young Belleri has sat in the Camaro, you would think he would be experiencing nerves heading to next month's Willowbank Raceway Tin Top Titles.
"I don't have any nerves as such at the moment, however once I hop back in the car and get strapped in they will probably start," laughed Belleri.
"I am really looking forward to it, Willowbank Raceway is a great track and I have been trying to get a real drive in dad's car happening for as long as I can remember.
"Hopefully we can see how I go in April – I am hoping to better my Personal Best from my last run - and maybe I just might be able to see if Dad will let me drive it a bit more.
"I have been watching Steve and putting things together in my head over the years, so now it is just about putting those thoughts into practice – but no matter how I go I just have to thank my dad and Steve for giving me the chance to have a go."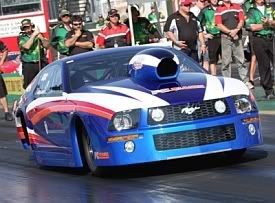 While Belleri looks to get the basics down, for experienced Pro Stock competitor Jason Grima it will be a matter of heading back to the basics for the Tin Tops with the only New South Welshman in the top five of the championship having a bumpy ride at last month's Sydney hit-out.
Failing to qualify by a mere few hundredths of a second, Grima and his Ford Mustang were plagued by mechanical issues, seeing his crew work tirelessly over the past weeks to iron out the bugs and look to start again in April.
"In Sydney all we needed was a little bit of luck to go our way, it was so close, but it just wasn't to be – we never had a clear run all weekend and unfortunately that saw us miss out on qualifying," lamented Grima.
"The team has been working non-stop since then to figure out what went wrong for us and to bring us back to basics, and now we will just head to Willowbank and look at starting again on the new set-up.
"I really want to thank my crew and also my Engine Program Manager Joe Polito as well as Tony Blito, we all have a great relationship and they have been working so hard to get us to a point where we think we have all the problems rubbed out."
As the only Southerner in the top five of the championship for which the final two rounds will both be held in Queensland you could be forgiven for believing Grima may find heading to next month's hit-out daunting, you would however, be wrong.
"I am not concerned at all about the final two rounds being in Queensland, we have had good results there in the past," said Grima.
"When it comes to the other competitors, some of them have been in good form but that could change at any moment – and when I line up it doesn't matter who is in the other lane, we just have to run what we have got and see how it plays out.
"For that reason we haven't got any specific goal for the Event or for the season, as a lot of things come into play and it depends on how the other guys go as well.
"We just want to pick up our own game – there is no point having the 'horse before the cart' so to speak – we need to get our program to a hundred percent and then we can have the chance to do something.
"If we must aim for something after Sydney's event it will be just to qualify and then take it from there, and hopefully get some good results for the crew and our sponsors PC Cranes, Pure Power Oil Filters and Lubricants, Jerry Bickel Race Components Australia and Auto West Paint Supplies, Westside Auto Electricial and Cover Craft Car Covers Australia."
For the first time ever in Australia, a 16 car Top Doorslammer Field and for only the second time ever in Australia a 16 Car Pro Stock field will be hitting the track at Willowbank Raceway for the 2008 Tin Top Titles.
In a usual event, fans would see eight competitors line up against each other for the first round eliminations, but at the Tin Tops they will get to see the top 16 competitors in two of Australian Drag Racing's powerhouse Group One categories duke it out for the win – effectively giving them twice the amount of racing than ever before.
This will be the first time ever that Top Doorslammer has had such a large competitive field, and will be only the second time for the Pro Stock category in Australia and the first time for Queenslanders to see so many Pro Stockers up against each other.
The April program will feature the penultimate round of Group One activity in Top Doorslammer and Pro Stock categories as drivers enjoy one final hit out prior to the season-ending Castrol EDGE Winternationals at Willowbank Raceway on June 5-8.
Four wheels and a roof to boot will be standard for most entries in this quarter mile extravaganza, which brings together many traditional drag racing categories coupled with a selection of unique race cars that enjoy cult following among their loyal fans.
TIN TOP TITLES (April 18 & 19) – Round of the 2008 Itel Community Telco Track Championship featuring Jack Daniel's Top Doorslammer and Travelaire Tours Pro Stock
Other racing includes: Lifestyle Carpets & Vinyl Super Stock, Lifestyle Carpets & Vinyl Competition, S&S Competition Bike, Carpenter Ford Supercharged Outlaws, Bailey's Brake & Clutch Modified, American Rides Modified Bike, Slick Industries Super Sedan, Crossroads Freightlines & Car Carrying Super Street, Queensland Diesel Spares Junior Dragster, High Impact Promotions Super Gas, Perfect Print Perfect Light. Also racing are Sport Compact & Pro Street brackets.
TICKETING: All ticket prices include paddock admission
Friday
Adults $20
Student (must show ID) $10
Ladies FREE ENTRY Friday Night
Saturday
Adults $30
Student (must show ID) $20
Children 13 & under are admitted FREE
SCHEDULE
Friday: Gates Open 3pm; Qualifying from 4pm; Feature Qualifying from 6pm
Saturday: Gates Open 9am; Qualifying from 10am; Feature Racing from 4pm
LOCATION
Willowbank Raceway
Champions Way (off Cunningham Highway 5km past the Rosewood turnoff)
Willowbank QLD 4307
www.willowbank-raceway.com.au
Photos courtesy of Angus MacMaster