MCFARLAND, CA – The West Coast Hot Rod Association "Shootout at Sundown" was presented by HOLDERS A/C & Heating; this would be the 4th Race of 2009, 3rd at the Auto Club Famoso Raceway in McFarland, Calif.
The cool weather was the story last month, this time it was quite the opposite with outside temps reaching 110* during the day everyone was looking forward to the night racing!. The Famoso crew kept on top of starting line and track conditions making sure that the lanes stayed even and the track was the best it could be in both lanes by the time the racing started the track temps had dropped considerably and it was obvious the track wouldn't be an issue. It wasn't just the temps heating up this weekend, the points championships have heated up as well and are closer than ever!
When it was all said and done there were 7 WCHRA Records reset and some of the quickest and fastest runs too date, with some wild "Crowd Pleasing" passes turned in by the "Heads-Up" drivers, The new for '09 Limited 10.5 class has quickly become the most talked about class among racers and fans with side by side 200ft wheel stands and record setting performances this class is definitely one you don't want to miss!.
We are definitely looking forward to September 26th -27th, when the WCHRA returns to AAA Auto Club Famoso Raceway for our season finale, the SCE GASKETS "West Coast Finals" ,this event will be TELEVISED with coverage by Inside Drag Racing (IDR) and broadcast on Fox Sports Net (FSN).
The WCHRA will also be at the Pinks All-Out on September 11th & 12th at AAA Auto Club Famoso Raceway in Bakersfield California, stop by our tent and check out some of the racers, and cars of the WCHRA, we will be making a few exhibition runs at the event and hopefully see some of you at the WCHRA Finals 2 weeks later!
HOLDERS A/C & Heating…. "Shootout at Sundown"

PRO STREET

Qualifying
In round 1 of qualifying the Firebird of Tim Henry led all qualifiers with a nice 6.42 at 221 mph in round 2 Henry would once again step up and lead qualifying with a 6.355 at 221.73,but right behind him was the '55 Chevy of Brett Williamson with a career best 6.383 at a potential record setting, 227.61!.Going into the final session there were many questions would the Williamson team be able to take the #1 spot? Would Tim Henry be able to hold on? or would the one of the other 8 PRO teams step up and take it from everyone!. When the smoke cleared it was the '55 Chevy of Brett Williamson at the top nudging out Tim Henry by .005 of a second, 6.350 to Henry's 6.355!, #3 would go to Clint Hairston 6.684 at 219.61 followed by Allan Bessant 6.702, Jay Diedrich 6.728, Gary Soulages 7.127, Jimmy Mock 7.643, Joe Alsworth 7.887, Kelly Bluebaugh 8.060 and Randy Walker 9.385.
Pro Street #1 Qualifier Brett Williamson




Pro Street #2 Qualifier Tim Henry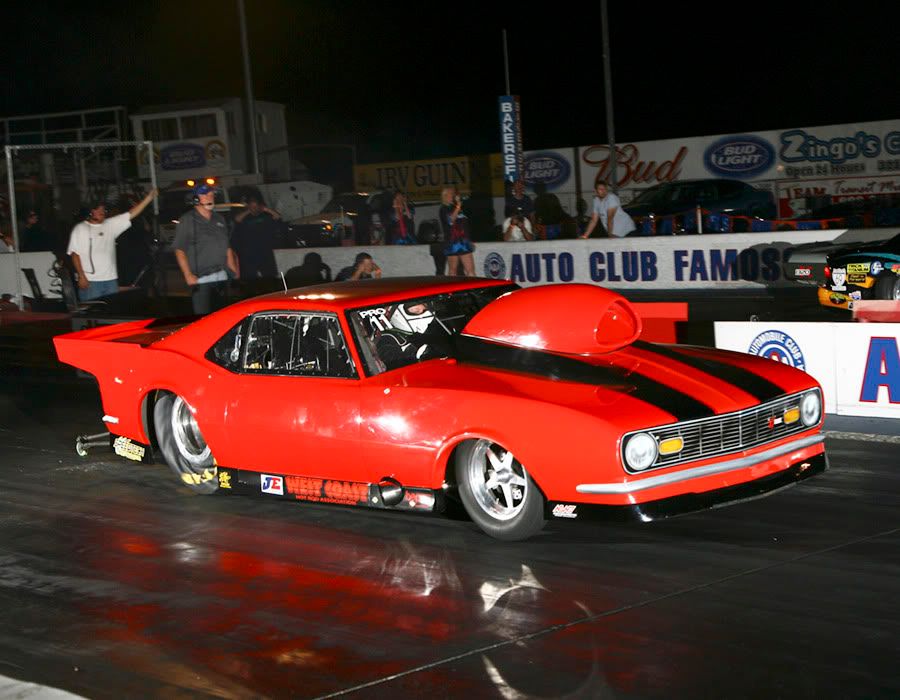 Pro Street #4 Qualifier Allan Bessant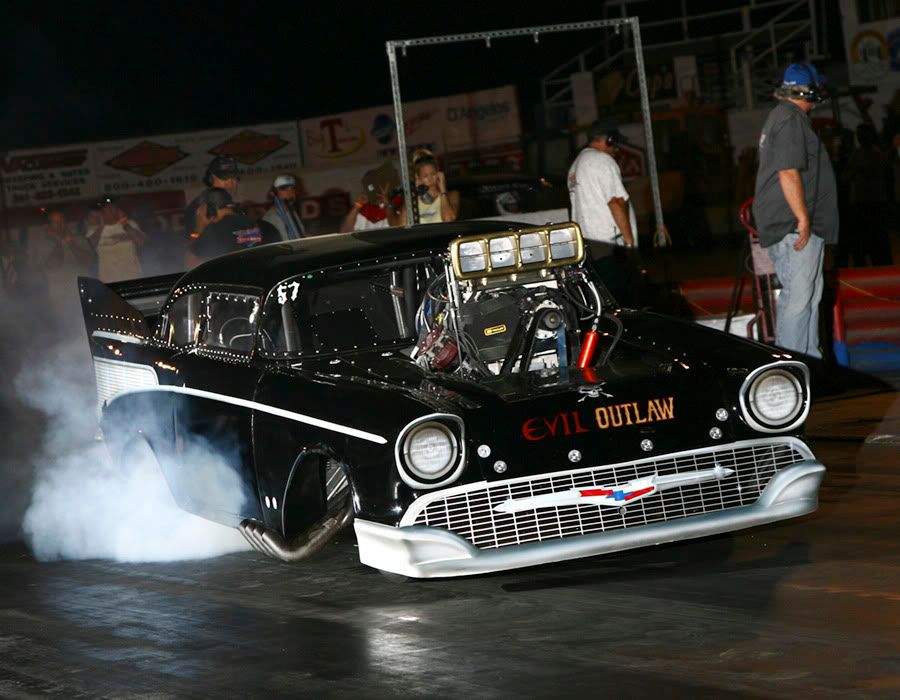 Pro Street #5 Qualifier Jay Diedrich




Pro Street #6 Qualifier Gary Soulages




Pro Street #7 Qualifier Jimmy Mock




Pro Street #9 Qualifier Kelly Bluebaugh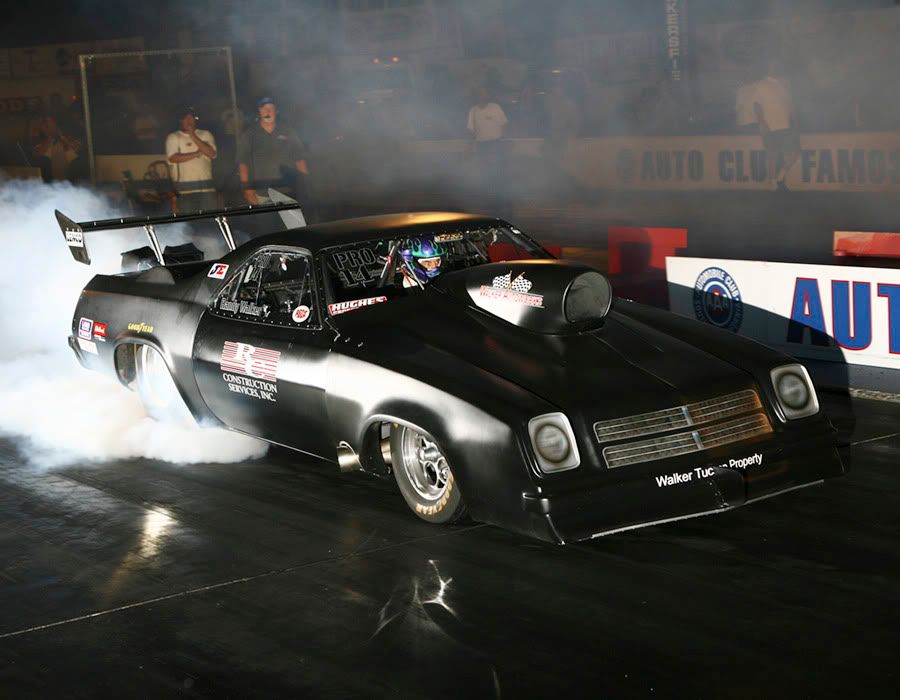 Pro Street #10 Qualifier Randy Walker


PRO STREET

Eliminations
Round 1
#1 Qualifier Bret Williamson would line up with the struggling Randy Walker in his Stealth Black El Camino this one would turn into the longest "Staging Dual" the WCHRA has ever had, neither driver wanted to stage first,37 seconds later, Williamson would stage first with Walker following, when the lights flashed it was Walker away first .040 to Brett's .115,at about the 60ft. mark Williamson had traction issues and Walker took the win 6.428 at 219.99 to Brett's shut-off 16.04 at 54mph.
Next on the ladder would be Joe Alsworth and Clint Hairston, both drivers would leave the line with nearly identical r/t`s .055 to .057, Alsworth would get loose and have to lift, but in the other lane Clint Hairston was on a good run, when the boards lit up it was Hairston taking the win, 6.433 at a potential record, 227.84!
Next pair would be the '68 Camaro of Allen Bessant against Jimmy Mock in Rich Zehrings GTO sporting 10.5 w`s!, Bessant would leave first .128 to Mocks .715, this is a new ride for Jimmy Mock and they are trying to sort it out, they would have some problems in the new ride and Alan would take an easy win 6.977 at 177.37.
Next pair would match the Con-Quest Firebird of Tim Henry and the RJ Monte Carlo of Kelly Bluebaugh, Kelly has a new power plant and was having trouble finding the right combination, with the points chase being so close they were hoping they could find it on this run. On the other side things were quite the opposite, Tim Henry arguably has had the most consistent car this season. When the tree dropped it was Tim away first .055 to Kelly's .100, shortly after Bluebaugh had to lift and Henry would take the win with another nice pass, 6.393 at 220.96.
The final pair was to be Jay Deidrich in his "Evil 57" and Gary Soulage in his Lightning Truck, unfortunately Gary couldn't make the call, Jay however would take advantage of the single and put down his best pass of the weekend running a nice 6.456 at 224.77.
Round 2
First pair out would be Clint Hairston and Allen Bessant, both drivers left the line with identical .109 lights, the race was close till about the 1/8th mile when the turbocharged GTO pulled away to take the win, Bessant made a good pass clocking a 6.743 at 209.15, but, it was not nearly enough for Clint Hairston's awesome 6.277 at 230.23!, this would give the Hairston crew the MPH Record and a shot at the E.T. Record.
Randy Walker would get a competition bye and run a 6.443 @ 219.94.
The final pair would be Tim Henry in the Con-Quest Firebird against the "Evil 57" Chevy of Jay Diedrich, when the tree flashed Jay was too quick and turned on the red light giving the win to Tim Henry.
Round 3
Tim Henry and the Con-Quest Firebird was set to get a Bye to the finals, but couldn't make the call when they experienced mechanical problems and had to settle for a semi-final finish.
On the other side of the ladder it was Clint Hairston and Randy Walker, Clint would have lane choice after his Record Setting 230 mph 6.277 run the round before. Randy on the other hane seemed to be figuring things out and was ready for the battle, with the unusual circumstances at hand; the winner of this run would advance to the final round and a win. With the points being so close at this point, these two drivers were battling for the advantage going into the final race of the season, when the tree flashed it was Walker away first, .057 to .086,but shortly there after Walker had to lift and Clint blasted down the track, as everyone waited for the scoreboard to light up we all wondered if he could back up the E.T. Record, Clint needed a 6.33 or quicker to back up the previous run, the Hairston Crew came up a little short on this one with a 6.355 at 228.42,the speed however did remove any doubt about the speed record though!
Final Round
The big question going into the final round was weather or not the Hairston team would try to set the record or just cruise down for the win, well there wasn't much drama this time, Clint and Team elected to save it for the West Coast Finals in September and took an easy cruise down the track for the Win with a 15.68 at 72 mph.
Congrats to the Hairston Motorsports Team on your Win, Record and chance at the WCHRA Championship!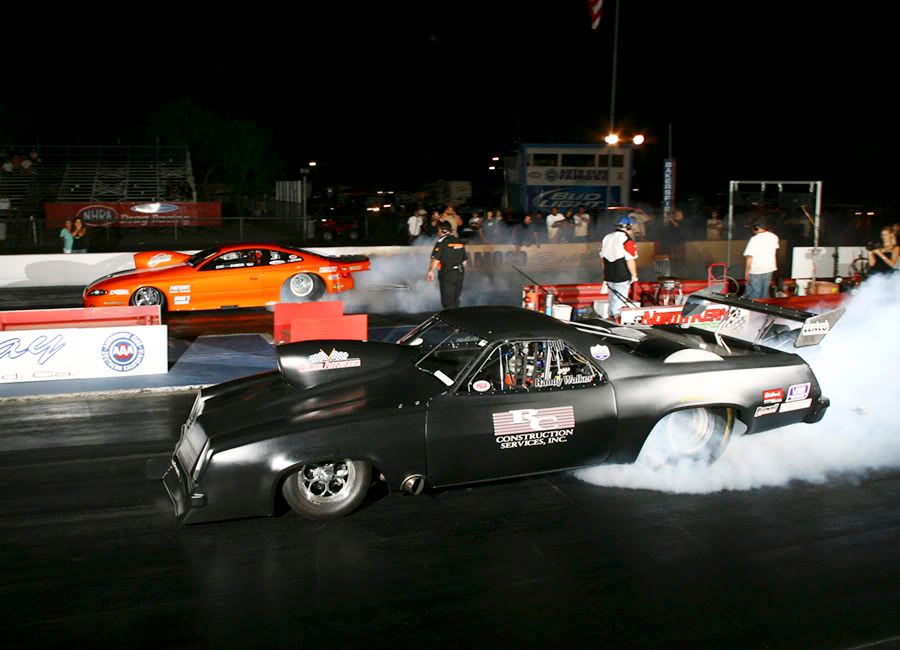 Pro Street Semifinal - Hairston vs. Walker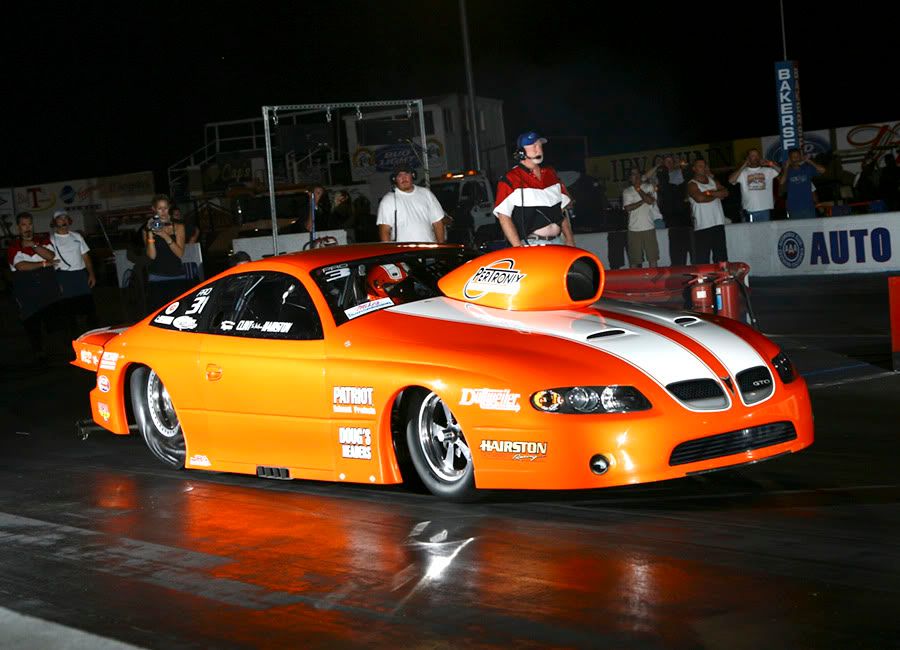 Pro Street Final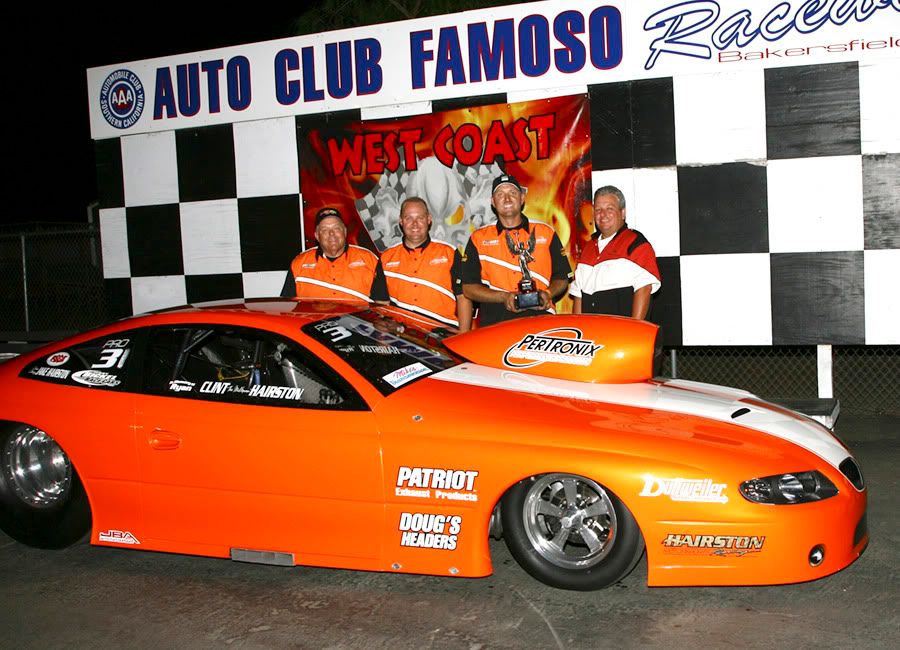 OUTLAW 10.5 QUALIFYING
Current WCHRA Points leader & Record Holder, Doug Sikora, decided to skip this event leaving the door open for `08 Champ Rich Zehring to tighten up the points standings. With only 3 cars making out Rich Zehring needed everything he could get and he did everything but set the records qualifying #1 with a 4.542 at 155.87, in the #2 spot it was WCHRA newcomer Lafayette Williams with a 4.793 and John Wall with a 5.065.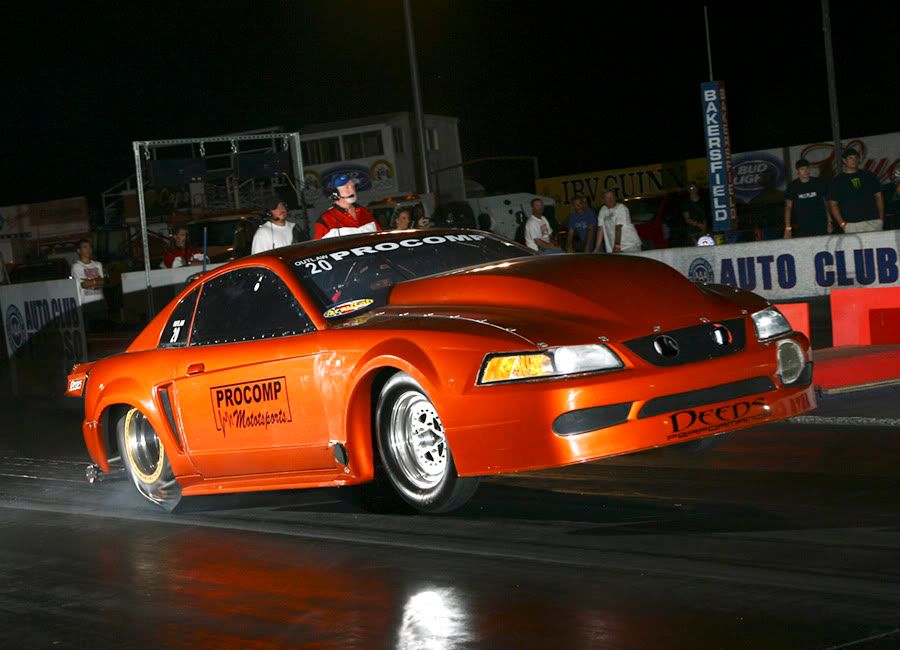 Outlaw 10.5 #2 Qualifier Lafayette Williams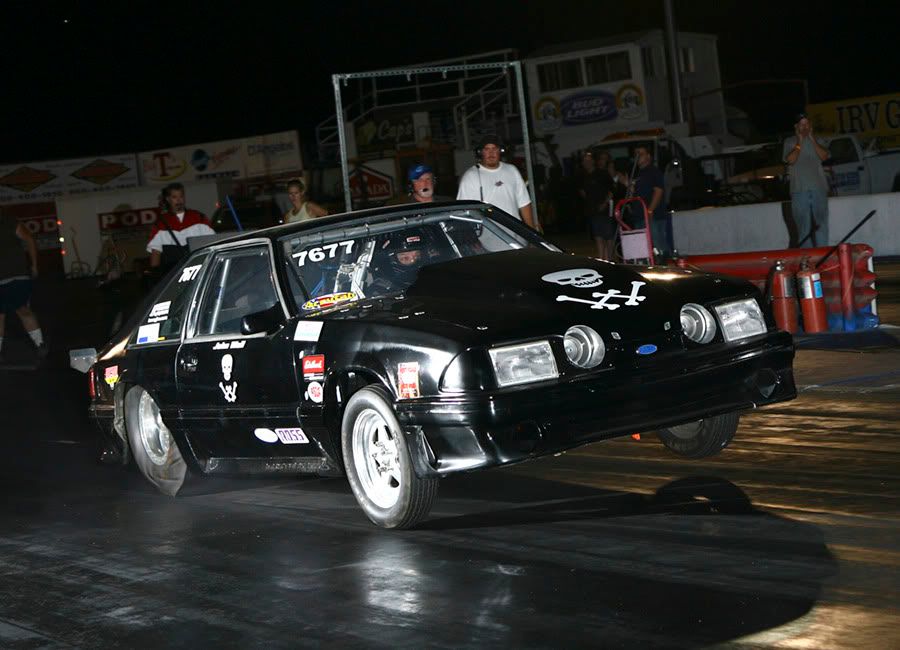 Outlaw 10.5 #3 Qualifier John Wall


ELIMINATIONS
Round 1
Rich Zehring and his "Lil Bri" tuned, Pettis Perf. Nova would get the competition single and turn a nice 4.572 at 168.25 to move to the final round.
The other side of the ladder would be Williams against Wall, both in there Twin Turbo SBF powered Mustangs. As the 2 cars left the line, the mustang of John Wall left .001 too soon with a .001 red light! In the other lane Williams was off with a nice .031 and clicked the timers with a nice 4.652 at 165.22 to move to the finals.
Final Round
The final round was to be a good one with the two cars only .08 apart in the previous round, unfortunately Lafayette left before the tree activated giving the win to Rich Zehring, Rich would make a nice run, 4.542 at 164.74 and take home the Win, Check and a chance at a repeat Championship in `09!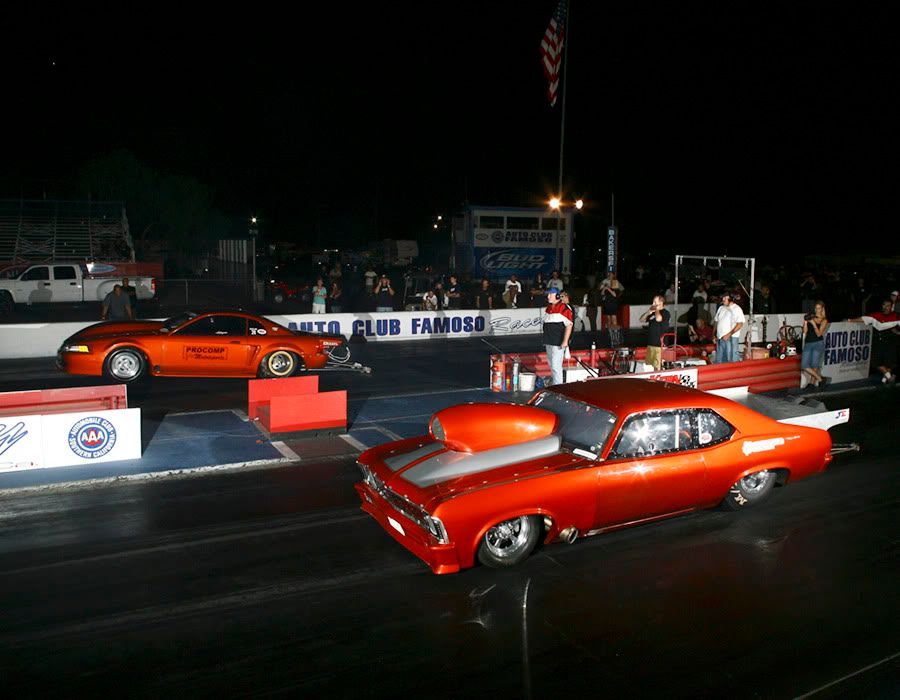 Outlaw 10.5 Final - Lafayette Williams vs. Rich Zehring


TRUE 10.5

Qualifying
After switching from OUTLAW to TRUE 10.5 two races ago, Chris Alston made it pay off by taking the #1 spot with a 4.883 @ 161.63 followed by Rich Hoyle 4.918, Andre Ball 5.074, Rob Barrios 5.213, Walt Brock 5.239, Scott Oksas 5.485, Richard Gable 5.602, Roger Holder 5.615, Rodney Bohannan 5.734, Ron McSwain 6.939 and Greg Castro`s N/T (Crash).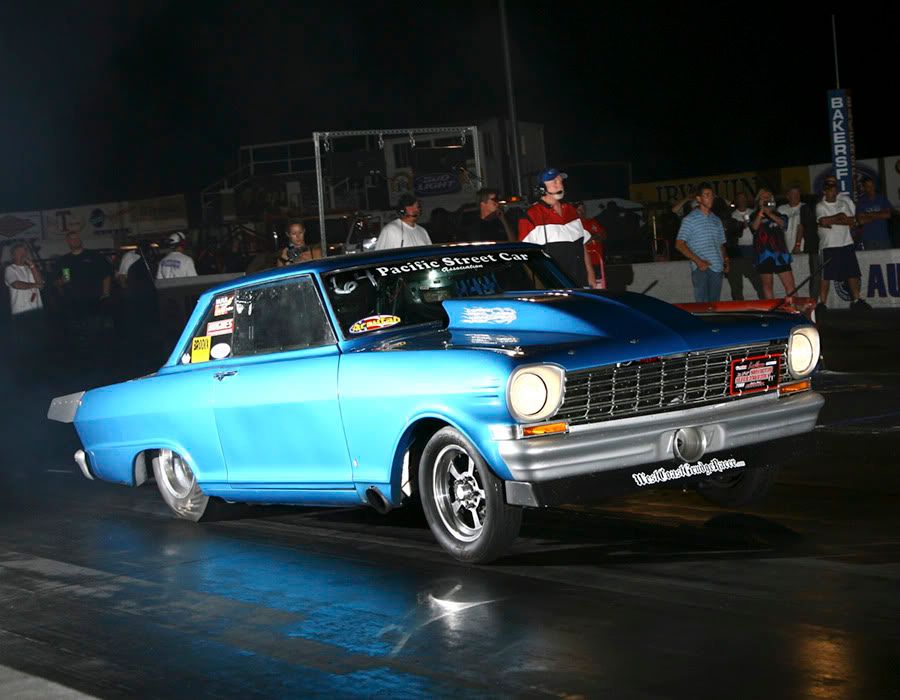 True 10.5 #1 Qualifier Chris Alston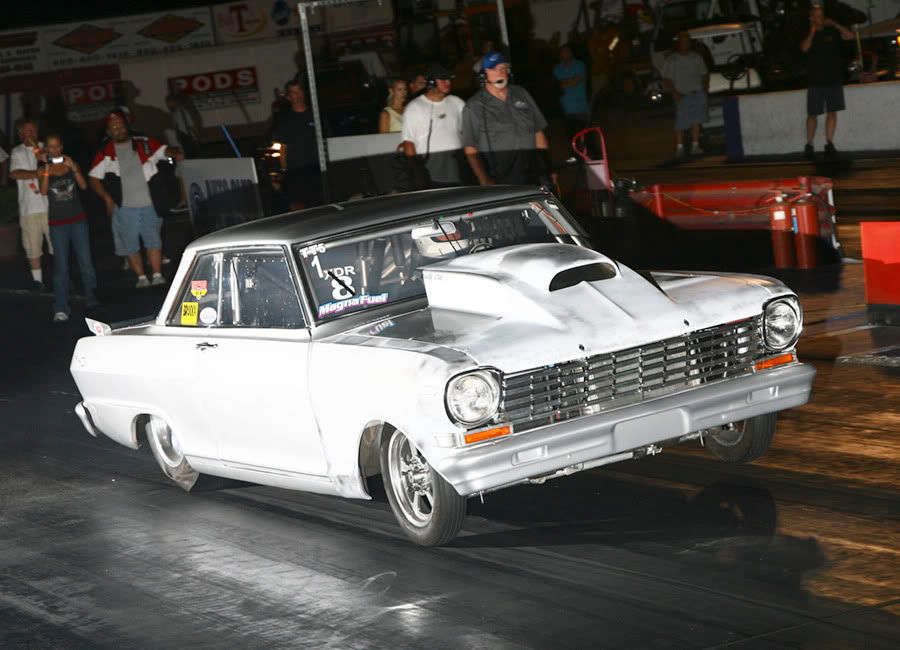 True 10.5 #2 Qualifier Rich Hoyle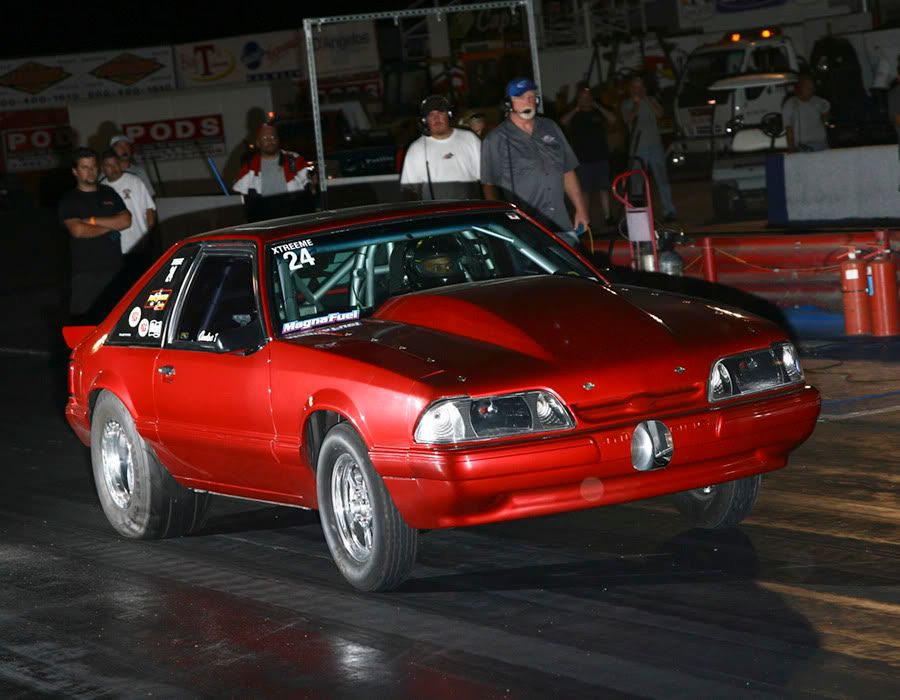 True 10.5 #3 Qualifier Andre Ball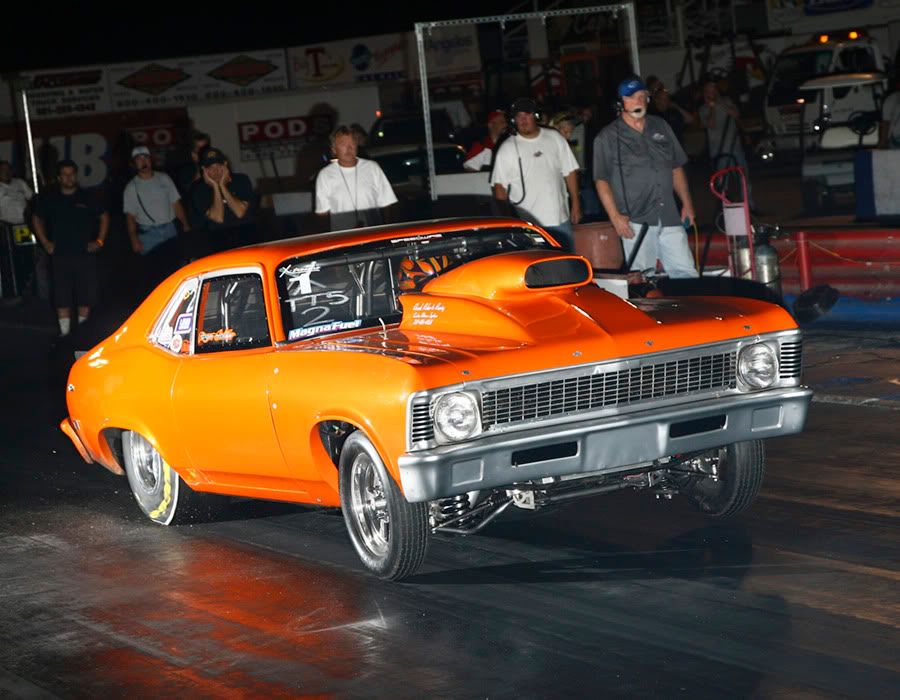 True 10.5 #8 Qualifier Roger Holder


Eliminations
Round 1
The Chassisworks Nova of Chris Alston Jr. would get the competition bye run first round, the Nova would spin the tire and Chris pedaled it to a 5.47 at 144 mph.
Scott Oksas in his Brandt Racing, Hickok Race Cars, Mikes Transmission, Pettis Perf., and Payless Water Heater sponsored, SBF/N2o powered 89 Mustang was up against the 66 Impala of Richard Gabel, when they left the line it was Gabel taking the advantage .099 to .232, at the stripe it was Gabel getting the win, 5.613 over Scotts 5.620.
Next pair on the ladder would be Andre Balls ProCharged Mustang against the Deeds Performance, Twin Turbo, 71 Camaro of Ron McSwain. This one was won at the tree, McSwain took the holeshot .057 to Balls .324 and held off the hard charging Mustang, 5.511 to Andre`s 5.337.
Rob Barrios and "Team WE" was up next against Rodney Bohanan who was running his Drag Radial Mustang in TRUE 10.5 for the first time, Robbie took the starting line advantage .051 to .169, and never looked back, taking the win with a 5.363 over Rodneys 5.533.
After crashing at the last event in his 63 Nova, Rich Hoyle was back and running hard this weekend, but, after an ironic turn of events, he would have a single run after Greg Castro had a run in with the wall earlier in the weekend. Hoyle made another nice run clicking off a 5.037 at 144.25 to advance to the next round.
The final pair would be Roger Holder in the Holders A/C & Heating 68 Nova against Walt Brocks BBC/N2o Camaro, Roger took a small starting line advantage .066 to .090 and opened up that gap a bit, taking the win 5.145 to Walts 5.349.
Round 2
First pair out would be Alston against Gabel , at the flash of the tree it was Gabel getting away first, .063 to .104, but he couldn't hold off the hard charging Nova of Chris Alston, Chris took the win 5.554 to Richards 5.658.
In the second pair of round 2 we saw Ron McSwain against Rob Barrios, after taking a holeshot win in round 1 Ron was on the other end of things this time, Barrios got the holes hot .046 to .217 and the win 5.272 over Rons 5.366.
In the final pair it would be the `07 Champ against the `08 Champ, Roger Holder against Rich Hoyle, at the start it was Hoyle with a slight holeshot .053 to .061, Holder would have tire shake problem shortly after and have to lift as Hoyle made another strong pass, 4.980 to 6.520 to take the win.
Round 3
Rich Hoyle would have the competition bye into the final and make an easy pass, 5.294 at 138.33.
The two Nor Cal Novas would match up this round to see who would meet Rich Hoyle in the final, Chris Alston had been pedaling the BBC/ProCharged Nova in the previous two rounds and had hoped they turned it down enough, on the other of things, Barrios had been running better every pass. When the two left the line, Barrios took the advantage .030 to .074, once again Alston had to pedal the Nova shortly after and Robbie took advantage and never looked back taking the win 5.215 at 142.36 to Alstons coasting 6.750 at 102.23.
Final
In just the second race for Rob Barrios and "Team WE" they had made it to the final round to face the current champ, Rich Hoyle in his '63 Nova. The two Novas lined up for the battle of Northern and Southern California , the drama was short lived when Barrios left too soon and turned on the red light giving the win to Rich Hoyle 5.015 at 144.69 to Robbies 5.259 at 142.06. This win makes Hoyle the frontrunner in the Championship points race and gives him a much needed check to help pay for them repairs he made to make it back to the track!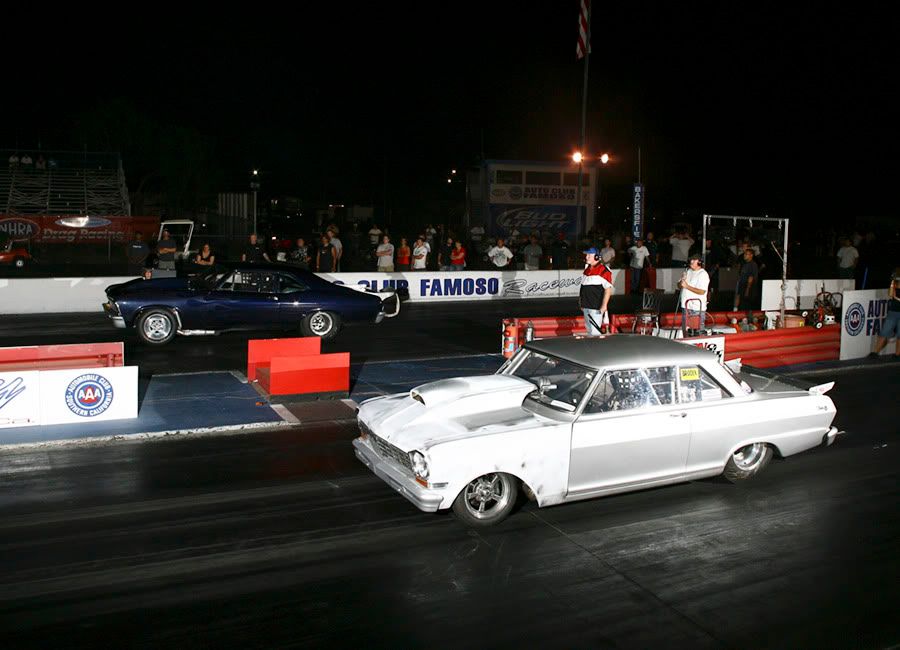 True 10.5 Final - Rob Barrios vs. Rich Hoyle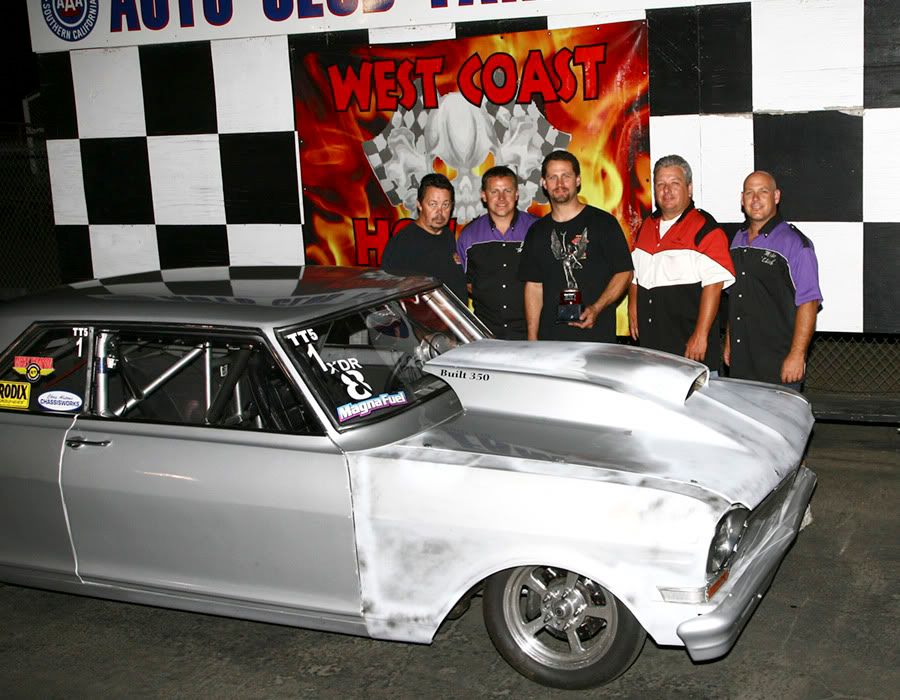 DRAG RADIAL

Qualifying

'08 Champion Dave Bowman once again took the #1 spot in qualifying with a 5.076 @ 148.61, both potential records, in the #2 spot was Dee Pfnister 5.206 at 144.41 followed by Artis Houstons 5.295, Derrol Hubbard 5.349, Armen Maghdessian 5.496 and Bob Kopps 6.324.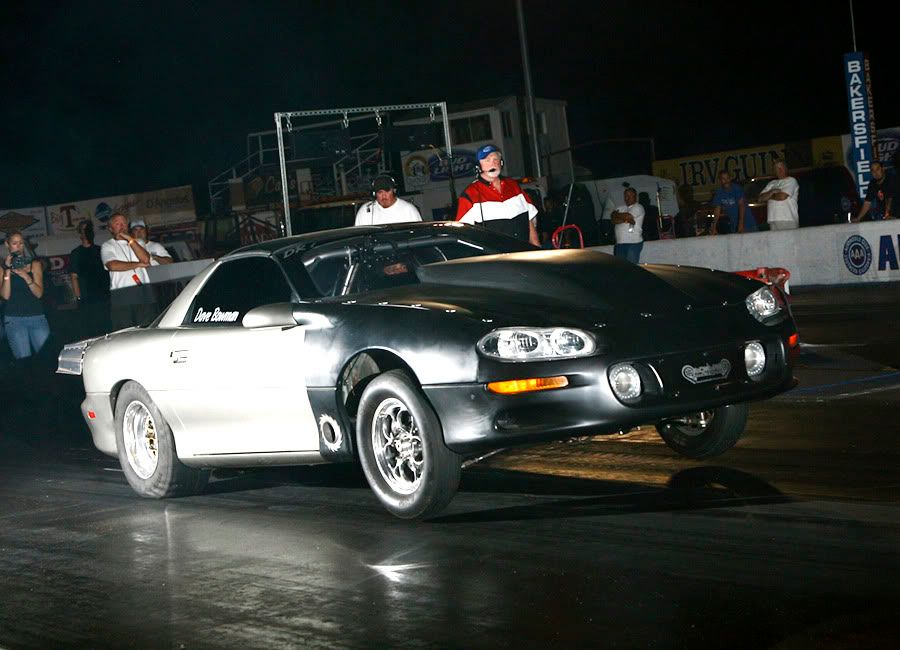 Drag Radial #1 Qualifier Dave Bowman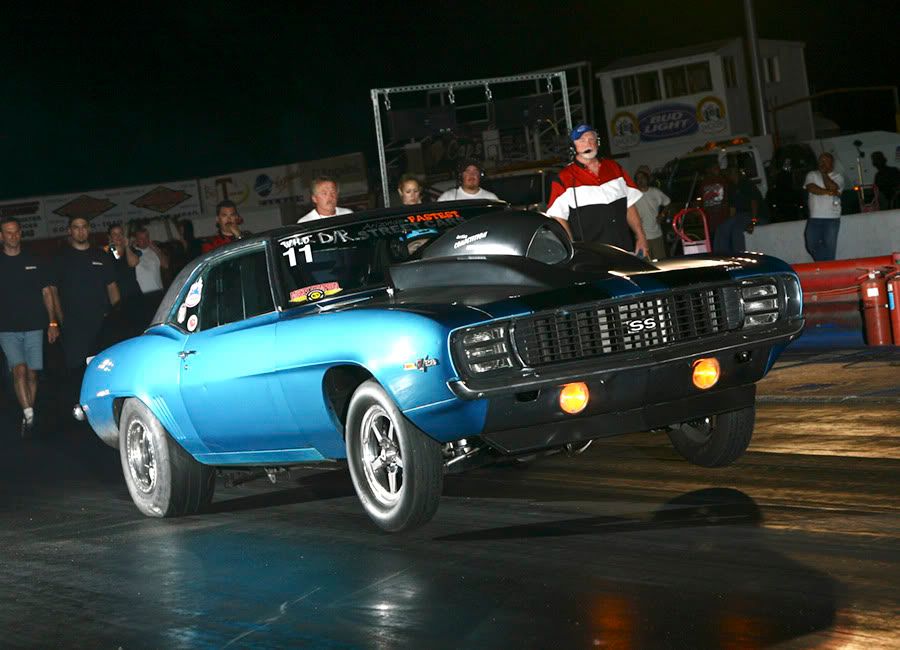 Drag Radial #2 Qualifier Dee Pfnister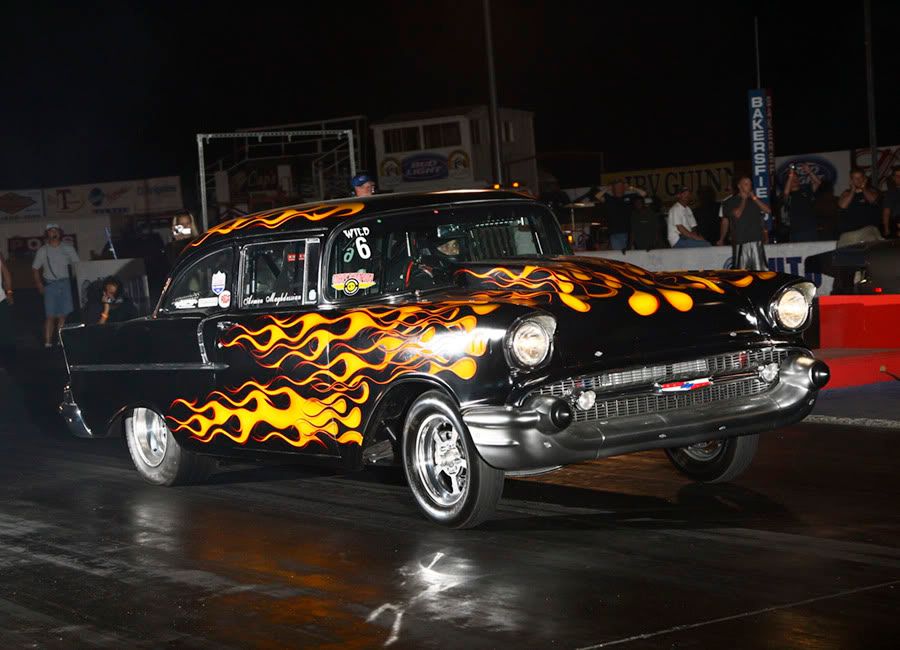 Drag Radial #5 Qualifier Armen Maghdessian


Eliminations
Round 1
First pair out would be the Enterprise Motorsports & Differentials, Daves Engine & Machine, DCB Motorsports, Lil Bri Motorsports, Precision TurboNRL systems, Chiseled Performance, Tial, Vic Hubbard Auto Supply, Orme Bros. Inc., Twin Turbo SBC 4th Gen Camaro of Dave Bowman getting a single when Bob Kopp and his Bobs Speed Shop, Tec Services 69 Camaro couldn't make the call, Dave and team came out to back up the record and did just that with another stellar run, 5.124 at 149.62.
The second pair would be Dee Pfnister in his AZ. Kustom Concept, Speedwire Systems, Competition Nitrous, Appollo Plumbing sponsored, BBC/N2o Powered 69 Camaro taking on Armen Maghdessian in his Accu Chrome, WestCoast Rotor, AES, HotRodPerf., Ron Lummus Racing, Briggs paint, BBC/N2o powered 57 Chevy. Unfortunately Armen couldn't make the call after breaking a lifter. Dee would make a nice easy pass 5.932 at 109.89 to advance to the semi finals.
The final pair of the round would be the BEP, Mikes Transmission, NANO System sponsored, BBC/N2o Powered Nova of Derrol Hubbard up against Artis "2X" Houston in his Motivational Engineering, Chevy Hi-Perf., Pettis Perf., Induction Solutions, Calvert Racing Suspensions, Pro Torque Conv., SCE Gaskets, CIRCUITZ Custom Wiring sponsored, BBC/N2o powered 71 Nova. Hubbard would get off the line first .055 to .104 and jump out on Artis, but, Houston would soon make up the distance and get around Derrol for the win 5.281 to Hubbards 5.741.
Round 2
In the semis it would be Bowman with the competition bye run; Dave would make another nice run and reset the mph record in the process, 5.133 at 150.05!
The other half of the semi`s would pit Dee against Artis, both driving BBC/N2o powered entries, this would prove to be a good one. Dee would take a slight advantage off the line, .066 to .073, and hold off Artis taking the win 5.209 at 145.04 over Houstons 5.287 at 142.18.
Final Round
So it comes down to the Quickest BBC/N2o Car, against the Quickest and Fastest Drag Radial Car in the WCHRA, Dee Pfnister and Dave Bowman, knowing Dee and his crew, they were going to throw everything they had at the Camaro of Team Bowman. When the lights flashed it was Dee off the line first with a nice .027 to Dave's .070, as the cars approached the 60 ft. mark you could see the Camaro of Pfnister start to apply the next stage of N2o, shortly after the tires started to spin. Dee made a valiant effort to pedal the Camaro but at that point it didn't matter because Team Bowman was on another killer pass, when the boards flashed it was Bowman resetting the record once again, 5.067 at 150.00 mph to Dee Pfnisters coasting 5.881 at 92 mph. This Win gives Team Bowman the upper hand going into the season finale in September, although Dee is right there and if they slip up he will be there to take advantage!
LIMITED 10.5
Qualifying
Once again the Limited 10.5 class is proving to be the fan/racer favorite, for the 4th race straight we saw considerable growth (13 cars) and improvement. At the June event, we saw the records reset and the racers didn't disappoint in July!, Another past Champion on the West Coast joined the mix and showed that he will be a force to be reckoned with from now on. That racer is Levi Hanna whom set both ends of the record at the Holders A/C & Heating "SHOOTOUT at Sundown" this past weekend. Levi did set the record, BUT, he wasn't the #1 Qualifier, that honor went to Tony Politano in his SBF/N2o powered Mustang. Tony took the #1 spot with an outstanding 8.643 at 160.65! Close behind was newcomer Levi Hanna with a 8.704 at 160.77, George Raygoza 8.848, Russ Delia 8.918, Caleb Hunter 8.958, Mike Orban 9.020, Mike Saiki 9.092, Dan Tyack 9.167 , Sean Cagle 9.722, Jacob Richey 10.158, Gordon Saiki 10.616, Norm Bartlett 10.714 and Jeff Wilsons 11.584.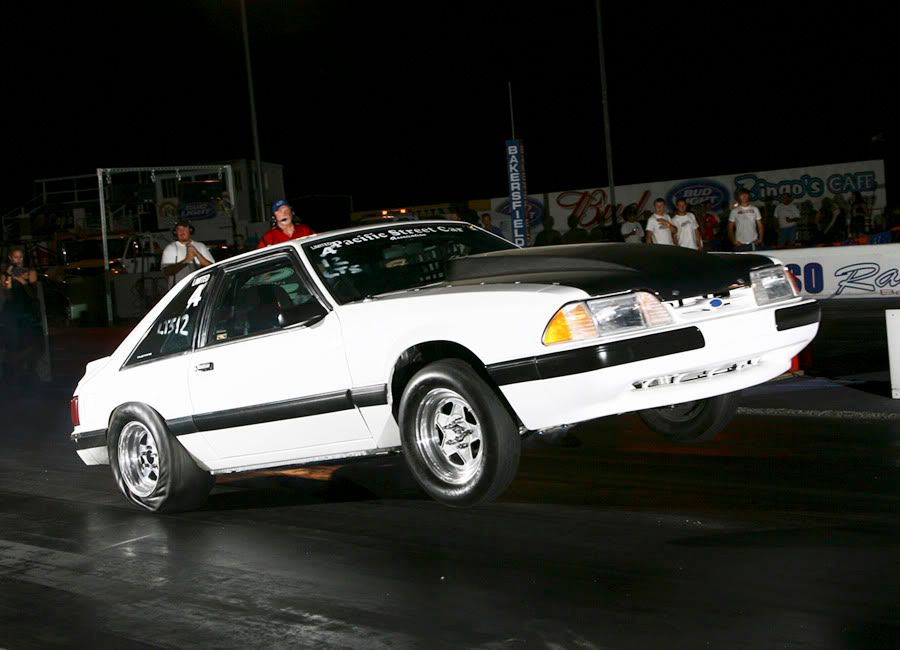 Limited 10.5 #1 Qualifier Tony Politano


Eliminations
Round 1
First round George Raygoza in his T&D Dairy, NGK Spark Plugs, and AES & Johns Tire sponsored 64 Chevelle would face Norm Bartletts 3rd gen Camaro, George would leave first and take the win 8.732 at 158.31 to Norms 10.336 at 139.29.
Next out would be the Turbocharged/SBC Powered Camaro of Russ Delia against Gordon Saiki and his SBC/N2o Camaro, this would be a pretty close race with Delia taking the win 9.345 to Gordons 9.484.
The SCE Gaskets sponsored 68 Camaro of Caleb Hunter would pair up with Jacob Richey next , Caleb would leave first .065 to .138 and take an easy win as Richey had problems, 9.530 at 133.66 to 14.387 at 42 mph.
The Turbo/N2o/6 cyl Toyota Supra of Jeff Wilson would take on Levi Hanna next , Levi would take the starting line advantage and the win over Wilson, 8.746 at 160.57 to Jeff`s 9.944 at 145.41.
Next on the ladder was the self sponsored, driven to the track, 70 Camaro of Dan Tyack against 2007 M/P & Multiple time L/S Champion Mike Saiki in a pair of Camaros. Saiki would take the holesshot win with a .093 9.032 at 151.10 over Dans .210 9.018 at 150.62.
Tony Politano would receive the competition bye run 1st round, his reward for being #1 qualifier Tony would launch hard into a wheel stand, lifting slightly and posting a 9.124 at 132.27 to advance to round 2.
The final pair would match up the winner of the Springnationals, Mike Orban against newcomer Sean Cagle; Mike had qualified quicker and was the favorite to win. Well in Drag Racing you never know what can happen and this was a perfect example, Mike took a nice holeshot advantage .119 to Sean`s .349, but Cagle would get around him for the win 10.355 at 143.56 to Mikes 10.672 at 136.48.
Round 2
First pair on the ladder would end up being the one the fans remember Mike Saiki against #1 Tony Politano, Mike would take the advantage off the line .063 to a .123 and then it got exciting, both cars went into wheelstands and carried out a couple hundred feet. Both drivers did an excellent job driving, both pedaling there cars to get them out of the air! When they landed Saiki was able to correct and stay in the throttle while Tony had to get out of it when it got close to the centerline. Mike would take the win with a 8.891 at 157.83 to Tony`s 11.999 at 91.35.
Russ Delia and Caleb Hunter would match up next, Caleb got a nice starting line advantage .050 to .126, but it wasn't enough to hold off Russ, he would take the win 8.863 at 155.79 over Hunters 9.350 at 124.82.
Levi Hanna would get the competition bye in round 2, he didn't hold back though; he was going for the record and reset it with an 8.670 at 153.74.
The final pair would be Raygoza vs. Cagle, George would take the win clocking another nice run, 8.789 at 158.53 over Cagles 9.491 at 144.95.
Round 3
First out would match up George Raygoza against Levi Hanna, when the ambers flashed it was Raygoza away first .025 to .117, and he would open the gap and get the win 8.804 at 158.45 to Levi`s 8.928 at 155.17.
The other pair in the semi would pit Mike Saiki and Russ Delia, Saiki would get off the line first .047 to .146, but he wouldn't be able to hold off Delia, Russ would get there first with a 9.085 at 154.58 to Mikes 9.311 at 157.09.
Final Round
In the final it would be the BBC/N2O Chevelle against the SBC/Turbo Blo-Thru powered Camaro of Russ Delia. Both drivers left the line virtually even, .122 to .123, but the Chevelle of Raygoza was just too much for Delia on this run, George would take the WIN 8.792 at 157.78 over Delia`s 9.045 at 155.09. This win gives the VanTol/Raygoza Team the upper hand going into the Season Finale in September!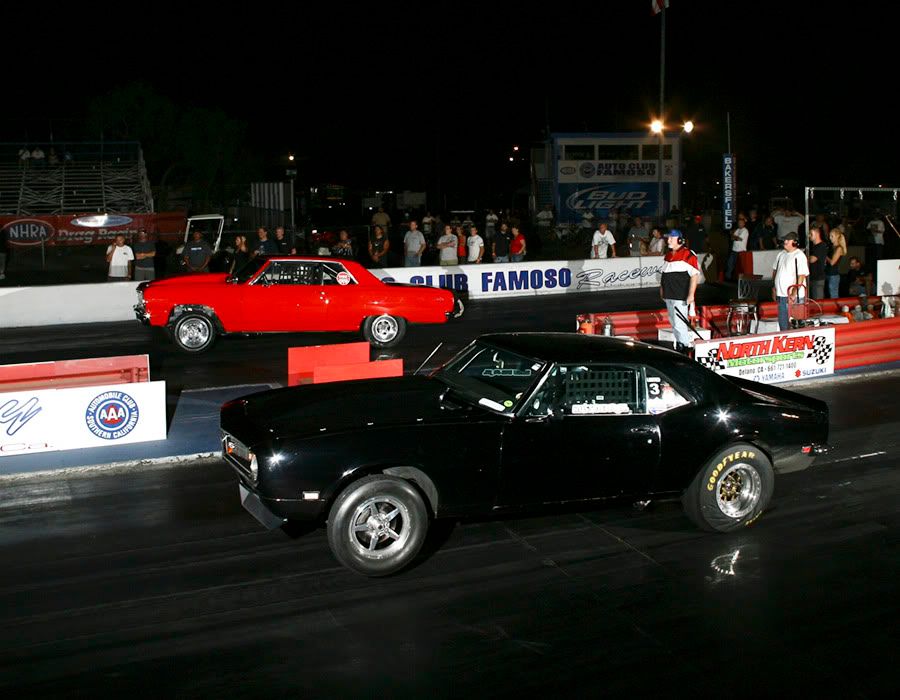 Limited 10.5 Final - George Raygoza vs. Russ Delia






M/P-P/S COMBO

Qualifying
After reaching the final round and having engine failure at the opening event in Phoenix, the Glen Walton Racing 64 Falcon driven by "Wild Bill" Hickok missed the SpringNationals in April. Well the team was back last event and got a win, which gave them a shot to catch the point's leader Ron Shaw. They were at it again and only put the Falcon in the #1 spot but reset both ends of the record 9.215 at 144.32. This also prompted an index change in the combo class, the WCHRA deducted a tenth of a second after the new record performance. In the #2 spot was `08 Champ Mike Pritchards P/S entry with an 8.485, Ron Shaw 9.752 and Bruce Darley at 8.84.
Eliminations
Round 1
The first pair out would be the Jones Engine Development, Hickok Race Cars, Pro- Trans, Pettis Perf., Bob Book Carbs, R&E Racing, Hoosier Tire, Wilson Manifolds, Redline Oil, REF sponsored, 388 c.i.SBF powered '64 Falcon against the Camaro of Bruce Darley from Simi Valley, Hickok would take a slight starting line advantage.070 to .098, but the Falcon was just too much for the Camaro on this day taking the win 9.259 at 144.32 to Darleys 8.841 at 155.54.
Next up would be the 377c.i. SBC powered, REVCO Precision sponsored Mustang of Ron Shaw against '08 Champion Mike Pritchard in his BBF powered Mustang, Ron would get a nice starting line advantage .058 to .096 but couldn't hold off the Mustang as Mike gets the win 8.485 at 163.01 over Rons 9.984 at 137.95.
Advantage .039 to .075 and held it all the way to the finish line, taking the win 8.345 @ 162.24 to Valentios 8.406 @ 161.84.
Final Round
So the final round would pit the #1 vs #2 Qualifier , Quickest M/P vs Quickest P/S car once again, the big question was if the 1 tenth adjustment would be enough to make it a close race. When the tree dropped it was Pritchard with a .021 advantage at the tree! The Falcon then went for the sky and carried the wheels for what seemed like forever, when it came down the car was out of the groove next to the wall, but Bill drove through and got the car back in the groove. It looked like all the excitement might cost Walton Racing the win, but, Bill was able to hold off the hard charging Mustang of Pritchard by .02 of a second!. Walton Racing gets the win 9.325 at 143.54 to Mikes 8.469 at 161.11.
This win combined with the record setting performances gives Team Walton Racing the upper hand going into the final race, along with a nice check!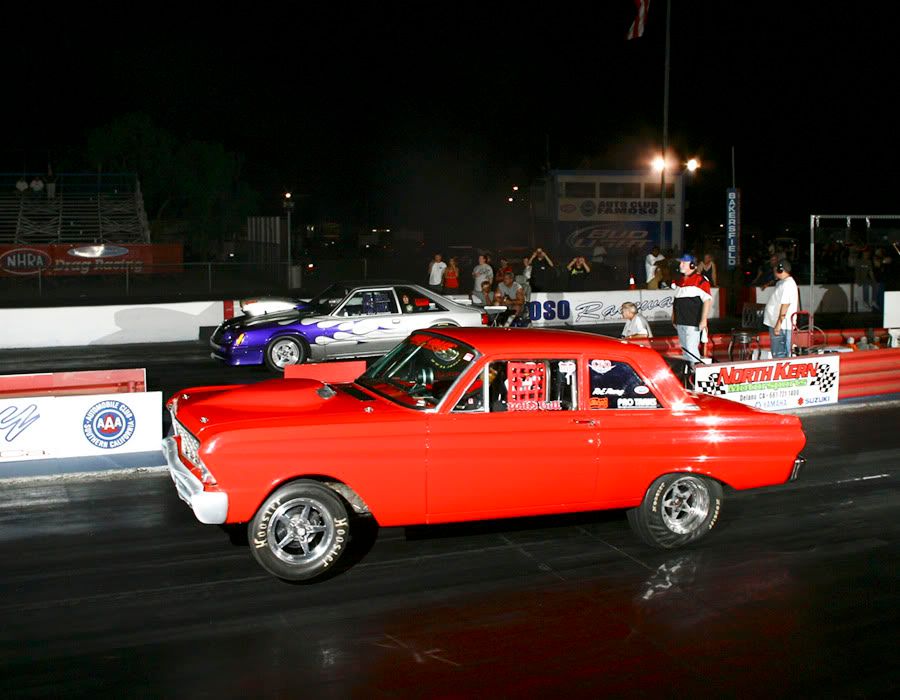 M/P-P/S Combo Final - Mike Pritchard vs. Bill Hickok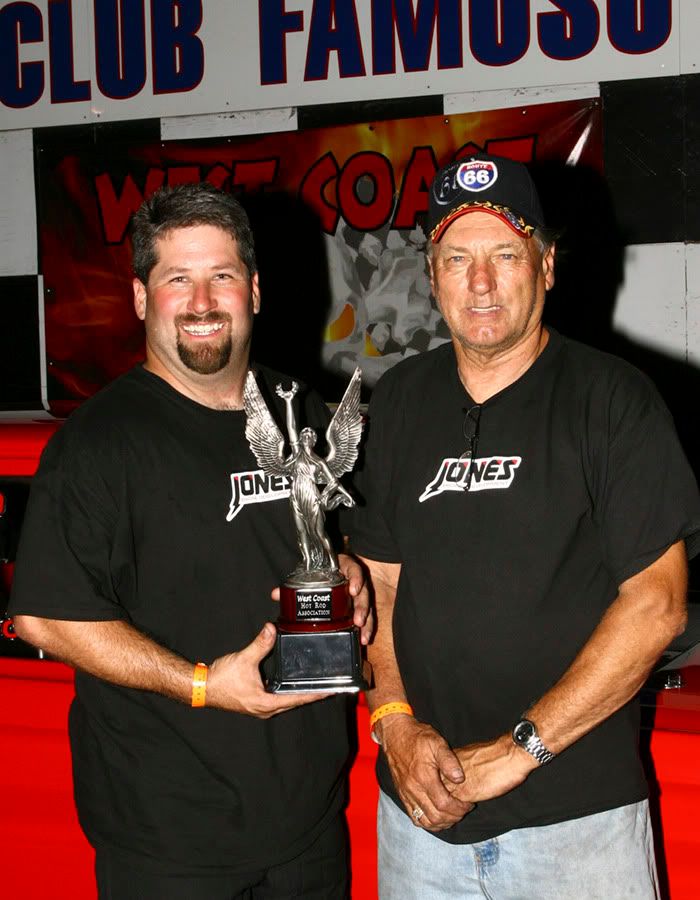 Bill Hickok with car owner Glenn Walton


Story by Tim Rigby - WCHRA

Photos by Paul Schmitz - Reflections Of... Motorsports Photography - www.reflectionsofmotorsports.com