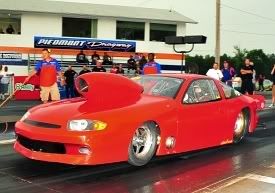 Gardner upsets Harvey at Big Dog
(9-4-2009)
JULIAN, NC – In what many considered an upset at Piedmont Dragway on Thursday night, Ronnie Gardner put "Diamond" Jack Gaddy's Cavalier in the winner's circle, while odds-on favorite, Travis Harvey, stalled on the starting line seconds before the tree was activated. Gardner, the most successful driver in Big Dog history extended his victories to 32. "I got in when the getting was good," laughed Gardner, as he modestly reflected on his multiple championships and Big Dog event wins, many of which were collected nearly a decade ago.
Somewhat removed from his incredible dominance of yesteryear, Gardner battled handling problems from the short wheel-based Cavalier throughout the race, as the car drifted left nearly every hit. After 2 rounds of qualifying, Gardner, who's a constant competitive threat from any position, settled for a middle of the pack 4.20 elapsed time, placing the Burlington, NC resident 8th on the qualifying sheet. Gardner stayed focused, exercising poise and tremendous driving ability as the night wore on.
In round one of eliminations, Gardner steadily pulled away from Oxford, NC's David Campbell. At the stripe, Gardner's 4.17 held off Campbell's 4.23 e.t. Gardner caught a break in the quarter-finals when season opening winner and #1 qualifier, Chris Rini, hurt the motor on the burnout. Gardner would clock another 4.17 on this pass, advancing him to the semis.
Gardner then met Taylorsville, NC's Darrin Hoyle. The race was up for grabs for the first 60 feet, before Hoyle's Camaro broke a transmission. Gardner streaked to yet another 4.17 elapsed time, his third in a row.
Gardner appeared to be the underdog going into the final run of the night against Travis Harvey, who clocked the quickest nitrous run in Big Dog history with a 4.127 in round one. Harvey, who got past Tracy Cockman, Gilmer Hinshaw and Robbie Keziah, clocked yet another 4.12 in the semis, en route to the finals with Gardner.
Burnouts complete, both competitors turned on the pre-staged lights, but when Harvey lit both bulbs, his record-breaking Camaro was suddenly dead in the water as the engine expired without warning. Gardner took the green light and streaked to a 4.15 to take the win. Harvey re-fired the car and made a lap for the fans, clocking 4.13 e.t.
In Renegade action on Thursday night, Mike Heath added to his win total while driving Mark Jones' Olds Cutlass. Heath won right out of the gate, as Brian Schrader went red. In the Outlaw Doorslammer class, Terry Hollady stopped Tracy Eddins.
Big Dog Championship decided
Travis Harvey clinched his first career Big Dog Championship on Thursday night at Piedmont. The Burlington, NC resident won a pair of Big Dog events in 2009 at the controls of Russ Farmer's Race Tech Camaro. The car was constructed last winter and was debuted at the season opening event in April. Motivated by a Brett Nesbitt 762, the Camaro holds the nitrous Big Dog elapsed time record and has gone as quick as 4.01 in outlaw trim. A Big Dog Championship ceremony is scheduled to take place during next month's North vs. South Shootout at Piedmont Dragway.
For more information about Piedmont Dragway, please visit:
www.piedmontdragway.com
Story and photo by Van Abernethy - www.VanTheManPhotos.com


Ronnie Gardner