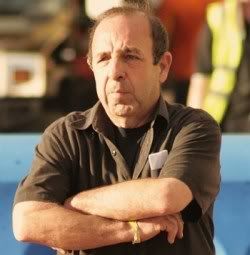 Wild Bunch forerunner Stanley set for trackside view at Tin Tops

(4-12-2008)
WILLOWBANK, QLD – Original 'Wild Bunch' forerunner Camp Stanley is headed to Australia for next weekend's Castrol EDGE Tin Top Titles at Willowbank Raceway, which, for the first time, will feature 16-car fields in Top Doorslammer and Pro Stock alongside an action packed support program.
As a founding member of Australia's Top Doorslammer category, Stanley has seen its evolution and will have a close eye on the sport as it takes it's next step at the Queensland quarter mile next week.
"The original 'Wild Bunch' concept was a great way to create and be paid to race many different types of vehicles," said Stanley.
"And I am happy to say I have been able to watch it grow and evolve from those very beginnings, and it indeed has been wonderful to behold!
"By allowing (Top Doorslammer) to grow and not stagnating it with too many rules, while still keeping it in check safety wise, I think the class has nowhere to go but up. And this 16-car experiment has the ability to see it do just that.
"I have heard all of the pros and cons being voiced by some of the competitors, but to be honest I think it is a perfect concept – there are more than enough cars to fill a 16-car field at any of the National Points Rounds, and just look at the quality of cars in that "B consolation bracket" at Western Sydney International Dragway in February!"
According to Stanley, the evolution of the qualifying format is integral to the growth of the sport as a whole.
"If we keep going along in this direction, I see Drag Racing continuing to grow at a nice and steady pace for years to come," he said.
"Just looking at the crowds at drag races today will tell any sane person that the rest of the world loves our sport as much as we do. So I only see it growing and expanding as more and more corporate money recognises its high visibility factor."
While Stanley resides in the United States, he spends plenty of time overseas, watching the growth from "humble beginnings" first hand. And he couldn't be prouder …
"From our humble beginnings the growth of this sport and our category has been phenomenal," said Stanley.
"When we started out we ran the gamut from Utes, as you know them, to what at the time were sleek race cars, such as the Datsun 300x – and it still gives me great pleasure to be recognised as one of the forerunners of Australia's Top Doorslammer and the US's Pro Mod classes.
"In watching it grow I have been fortunate enough to attend international drag races featuring these kinds of cars for almost 20 years now!
"I first arrived on Australia's beautiful shores in December of 1988, and have viewed these cars in England, New Zealand, and, of all places, South Africa."
But Stanley's latest trip down under is hardly a holiday. He will undertake the role of Tuner for Sean Mifsud's Willys Top Doorslammer.
"Sean and I are another great Australian friendship that has come from a joint love of our sport. I first met him at WSID at one of his first races with the Willys and I struck up a conversation with him because his power plant is the same as we run in America.
"From that conversation the team has centred around that car. Sean wants to do things differently and we are attacking the class with a totally different concept from what is the accepted norm.
"The car is the first part of that equation, with it being a Willys, a car which the average person has never seen. The second and main part lies in that we have bypassed the traditional screw supercharger for a Mike Janis-prepped Kobelco roots style supercharger, which sits on top of the JanCen Engines Hemi powerplant that Sean has just gone to.
"Come the Tin Tops we hope to be able to run an "0" anything and qualify in the top eight, although this may be a tall order since we've only had three clean, full-out runs on the car, and most of those without accurate data caused by an anomalie with the data recorder. But as they say, you never, ever count your chooks before they are hatched!"
So is there any chance of this veteran retiring soon? Not according to the man himself …
"I had my first drag car almost 40 years ago and that is where the addiction was created. And make no doubt about it, it is an addiction – and one for which I never want a cure!" laughed Stanley.
"I had been tuning cars for different people over the years, and as my youngest son came along in the sport it has all now gone full circle and I am back to being a car owner yet again with John Stanley (his son) pushing the Lenco buttons!
"I have had a great time in the sport with lots of achievements I hold close to my heart, like being chosen to come to Australia and race amongst some of the stars of today.
"John was Rookie of the Year in his first year of top level competition and was the World Champion two years later, and we have set numerous ET and Speed records at a lot of different tracks. And he has kept a level head throughout it all.
"With everything I have done, ultimately racing with my son and having him do so well has made me the proverbial Proud Papa!"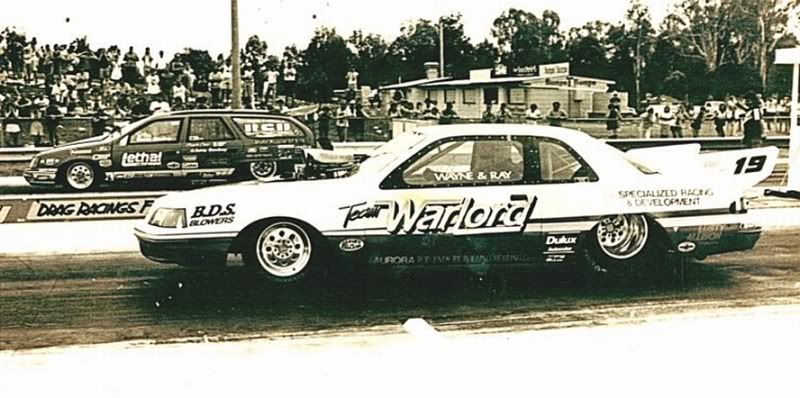 For the first time ever in Australia, a 16 car Top Doorslammer Field will be hitting the track at Willowbank Raceway for the 2008 Castrol EDGE Tin Top Titles.
In a usual event, fans would see eight competitors line up against each other for the first round eliminations, but at the Castrol EDGE Tin Tops they will get to see the top 16 competitors in two of Australian Drag Racing's powerhouse Group One categories duke it out for the win – effectively giving them twice the amount of racing than ever before.
This will be the first time ever that Top Doorslammer has had such a large competitive field, and will be only the second time for the Pro Stock category in Australia to do likewise.
The April program will feature the penultimate round of Group One activity in Top Doorslammer and Pro Stock categories as drivers enjoy one final hit out prior to the season-ending Castrol EDGE Winternationals at Willowbank Raceway on June 5-8.
Four wheels and a roof to boot will be standard for most entries in this quarter mile extravaganza, which brings together many traditional drag racing categories coupled with a selection of unique race cars that enjoy cult following among their loyal fans.
CASTROL EDGE TIN TOP TITLES - ENTRY LIST – TOP DOORSLAMMER AND PRO STOCK CATEGORIES

Top Doorslammer
Mark Belleri
Ray Bernard
Stuart Bishop
Victor Bray
Ben Bray
Steve Dupond
Maurice Fabietti
Robin Judd
Peter Kapiris
Aaron Lynch
Sean Mifsud
Steve Packman
Russ Pavey
Gary Phillips
Brett Stevens
Kath Stevens
Andrew Sutton
John Zappia
Pro Stock
John Barbagallo
Lee Bektash
Rick Chilton
John Galea
Jason Grima
Bruce Leake
Dave Newcombe
Frank Nirta
Joe Polito
Scott Porter
Brian Pursell
Troy Quelch
Aaron Tremayne
Tyronne Tremayne
Shane Tucker
Rob Tucker
Denis Whiting
CASTROL EDGE TIN TOP TITLES (April 18 & 19) – Round of the 2008 Itel Community Telco Track Championship featuring Jack Daniel's Top Doorslammer and Travelaire Tours Pro Stock
Other racing includes: Lifestyle Carpets & Vinyl Super Stock, Lifestyle Carpets & Vinyl Competition, S&S Competition Bike, Carpenter Ford Supercharged Outlaws, Bailey's Brake & Clutch Modified, American Rides Modified Bike, Slick Industries Super Sedan, Crossroads Freightlines & Car Carrying Super Street, Queensland Diesel Spares Junior Dragster, High Impact Promotions Super Gas, Perfect Print Perfect Light. Also racing are Sport Compact & Pro Street brackets.
TICKETING: All ticket prices include paddock admission
Friday
Adults $20
Student (must show ID) $10
Ladies FREE ENTRY Friday Night
Saturday
Adults $30
Student (must show ID) $20
Children 13 & under are admitted FREE
SCHEDULE
Friday: Gates Open 3pm; Qualifying from 4pm; Feature Qualifying from 6pm
Saturday: Gates Open 9am; Qualifying from 10am; Feature Racing from 4pm
LOCATION
Willowbank Raceway
Champions Way (off Cunningham Highway 5km past the Rosewood turnoff)
Willowbank QLD 4307
www.willowbank-raceway.com.au
Photos courtesy of John Baremans/Dragster Australia, Axle Weiss and Dave Wallace