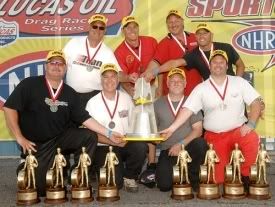 Belle Rose winners eligible for JEGS Crown

(4-18-2008)
COLUMBUS, OH – The eight recent winners of the fifth annual JEGS NHRA Cajun SPORTSnationals are now in the enviable position to compete for one of the rarest and most desirable trophies in drag racing; the JEGS Crown. The eight champions – Kevin Self (Comp), Kevin Helms (Super Stock), Jeff Strickland (Stock), Charles Roth (Super Comp), Craig Anderson (Super Gas), Trevor Land (Super Street), Stan Leerkamp (Top Dragster) and Keith Raferty (Top Sportsman) – can win the prestigious award by winning either one of the two remaining JEGS SPORTSnationals events, the JEGS NHRA Northern SPORTSnationals at National Trail Raceway in Columbus, Sept. 19-21 or the JEGS NHRA Pacific SPORTSnationals at Auto Club Dragway in Fontana, Calif., Oct. 3-5.
The JEGS Crown is a beautifully handcrafted trophy, which was designed and created by Dan Dreisbach, the head fabricator at Rahal/Letterman Racing. The JEGS Crown is not only striking in its appearance, it is also one of the most difficult awards to earn in all of motorsports as it requires two victories in the same class in a calendar year. Since its unveiling four years ago, the JEGS Crown has been claimed just once; by current Pro Mod and nitro Funny Car racer Mike Ashley, who claimed back-to-back wins in Belle Rose and Columbus while racing in what is now the JEGS ProMod Series.
"When we initially came up with the idea to create the JEGS Crown trophy, we knew we wanted to do something special for the many racers who make the three JEGS SPORTSnationals events so special," said Scott Woodruff, Director of Media and Motorsports Marketing for JEGS Mail Order. "We also knew that it would be a very difficult award to win. Unlike a Grammy or an Academy Award, which are presented each year, the JEGS Crown is available only to those racers who truly accomplish something special. We understand that winning one race is difficult and that winning two requires a herculean effort and most likely, a little bit of luck. Still, we feel that in this case, the reward justifies the effort."
The eight Belle Rose winners include some of the most talented sportsman drivers in the country including Helms, a three-time national champion in Stock Eliminator, Strickland, a multi-talented racer who has won national events in Stock, Super Comp, and Super Stock, and Anderson, who also carded a win at the 2004 JEGS Cajun SPORTSnationals.
"We have several copies of the JEGS Crown trophy that our proudly displayed at our corporate headquarters in Delaware, Ohio," said Woodruff. "While they look beautiful in our showroom, we'd like nothing more than to be able to present several of them to a few lucky racers who are able win in Columbus or Fontana later this year."
Information regarding JEGS Mail Order can be found at www.jegs.com.