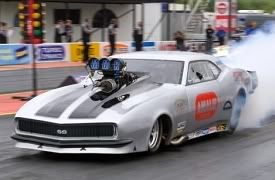 Flamholc goes to semifinals at Nitro Nationals
(7-7-2010)
MALMÖ, SE – Hi, Adam Flamholc here.
We had a great weekend in Finland at the second round of the FIA European drag racing championship.
At the first event in England we had some issues with the car, so we decided to do some changes to it, and to go testing before Finland. It feels like it paid off!
We qualified number four with a 6.14s, and won the first two rounds. In the semi I was up against the R2B2 Camaro once again. This time Michael Gullqvist was the driver, and not Melanie Troxel. I left the line first, but the car made a hard turn to the left. Michael passed me and won the round. He also won the final against Johan Lindberg.
Congratulations to Michael and the R2B2 team!
So far me and the team are really satisfied with the season. We are number three in the championship points, and it feels like we are learning and improving at every event!
Best Regards,
Adam Flamholc