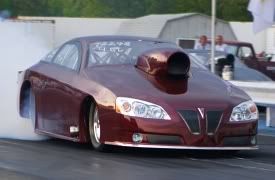 Southern Outlaw Top Sportsman invade Richmond Dragway
(5-11-2011)
SANDSTON, VA – With 40 Top Sportsman Cars on the premises, The Southern Outlaw Top Sportsmen came to Richmond Dragway with a message! "We are the premiere Top Sportsman Racing Organization on the East Coast," said board member Stacy Johnson. "We really have some dedicated members that have supported the SOTS for years. Forty cars at the Richmond Dragway race says something about our Organization. The good car counts and ever increasing membership proves that SOTS is rapidly becoming the racing program for the Top Sportsman Racer."
SOTS was formed for the bracket racer who wanted to be in an organization that had no index in how fast you can run, but you must run a least a 5.80. The number 1 qualifier at Richmond was Ronnie Hoy with a 4.639 driving the sleek Pontiac GXP. The bump spot was 5.29. With 18 four second cars the SOTS is setting new goals and records at every race. "The car count of 40 cars is very close if not the most cars that we have ever had in Richmond," said SOTS President Gary Pitts.
Racing with the SOTS is a pleasure and an enjoyment that many racers haven't had in the previous years of bracket racing. "We bring a good show for the race fans, but it's also all about having fun for us," said board member Wells Waugh. "Our membership roles are getting Bigger every year and with so many new members joining every week, it's hard to keep our members page updated," said SOTS President Gary Pitts.
We need You!!! This is the right place for the Top Sportsman Racer; we invite you to come race with us!! DO YOU HAVE WHAT IT TAKES TO BE A SOUTHERN OUTLAW TOP SPORTSMAN?
www.southernoutlawtopsportsman.com
Story by KW Multi Media Group

Photo by Mike Keene